The Art of Teapots! Join a Virtual Gallery Tour and Demo with Teapots IX's Juror, Jen Allen. Free.
February 24, 2022
@
7:00 pm
Join Baltimore Clayworks for a virtual gallery tour of TEAPOTS IX with Jen Allen, the juror for the exhibition. Jen will "walk" us through the show, sharing her thoughts on the teapots on display in the galleries. Jen will also give a short demonstration of her own creative process and techniques for making teapots.
Juror's Statement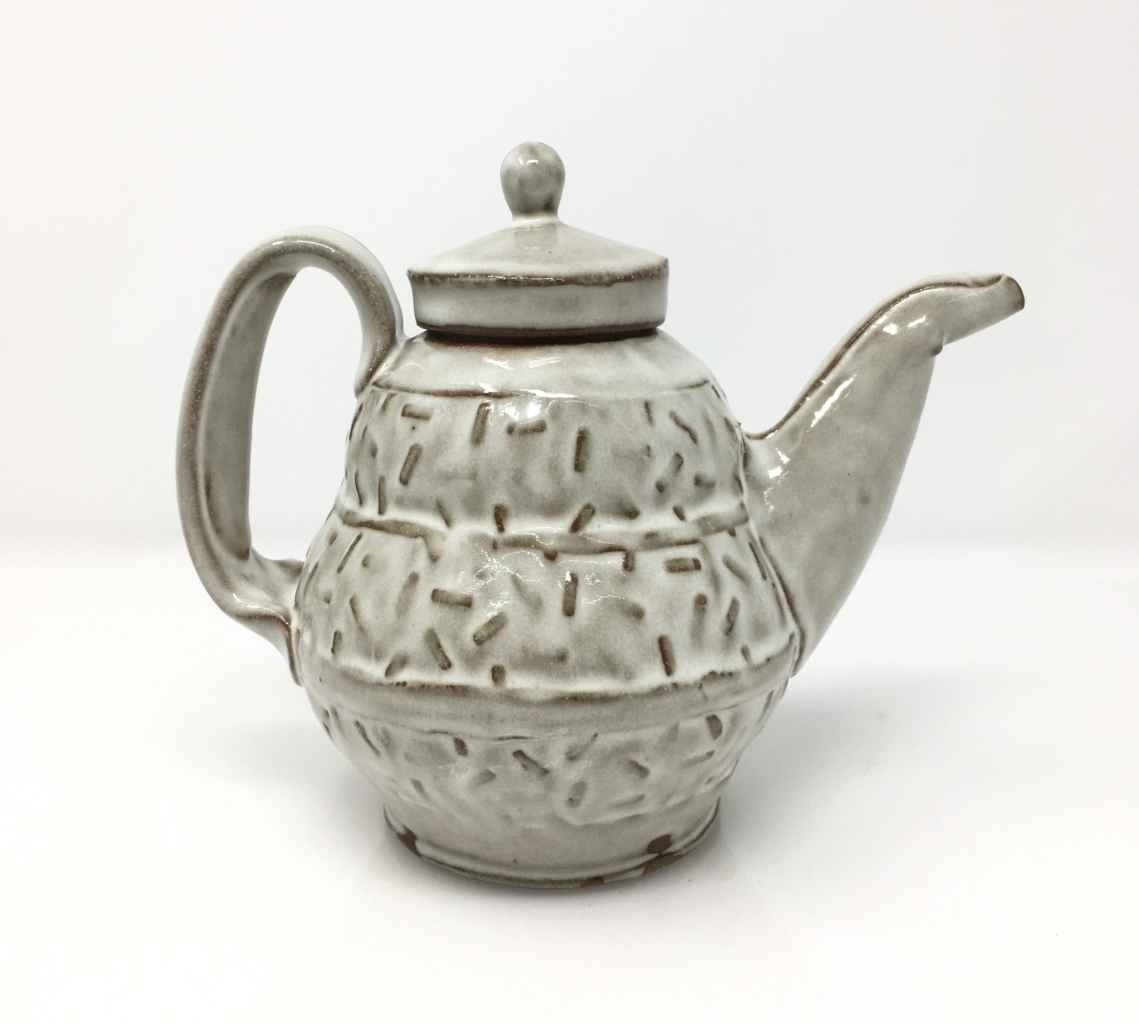 "I am honored to be asked to jury Baltimore Clayworks Teapot exhibition! Tea is a daily part of my family life and we have a small collection of teapots that are used often. From English Breakfast tea in a brilliant, colorful Sarah Jaeger porcelain teapot to genmaicha in a contemplative, stony Fujimoto Hide's Shigaraki teapot with a cane handle to Pu-erh in a polished, traditional Yixing teapot.
As a potter, it is my hope that my work will live long lives in other people's homes and be used for what I, as the maker, intended. Only then can the pot that I have labored over truly be complete. I relish in the focus needed to make a utilitarian teapot. Aside from aesthetics and creativity, one must consider weight, volume, the angle and taper of the spout, the fit of the lid, the comfort/placement/type of the handle, the feel of the knob the size of the holes to strain/infuse the tea or space for a separate infuser, the smoothness of the foot. The process of fashioning a teapot out of clay takes patience, perseverance and contemplation.
As a teacher, I assign teapot projects due to the inherent complexity of the form. Teapots are composite pieces, consisting of disparate parts that must come together in harmony AND be able to function properly. I believe that no matter how long one has been making pots, the teapot continues to teach a potter a great deal about ergonomics, physics and engineering.
Jen Allen received a BFA (2002) from the University of Alaska, Anchorage, and a MFA (2006) from Indiana University, Bloomington. From 1998-2002, she worked as a production assistant to Kris Bliss at Bliss Pottery in Anchorage, AK. In March 2008, the National Council for the Education of Ceramic Arts (NCECA) recognized Jennifer as an "Emerging Artist." Among other awards, she was the recipient of the 2006-2007 Taunt Fellowship at the Archie Bray Foundation in Helena, MT. In addition to keeping a home studio, Jennifer currently teaches ceramic classes at West Virginia University. She lives in Morgantown, WV with her husband Shoji Satake, their two kids, Annelise and Finn and their two dogs, Billie and Ella.
Related Events