Resident Artist Solo Exhibitions, Clay from the ARC Classroom
June 29, 2019
@
8:00 am
–
August 24, 2019
@
5:00 pm
Baltimore Clayworks is proud to showcase the work of our four resident artists through a culminating exhibition extravaganza celebrating their past year in our studio. A diverse offering of styles and surfaces is on display: refined functional vessels in jewel-tone glazes, monolithic, rustic sculptures, narrative figurative sculptures, and quiet, slip-cast installations. The Main Gallery will be shared by Wesley T. Brown and Jason Piccoli. The Solo Gallery will host Hannah Pierce, and the Project Space will be filled by Hae Won Sohn's installation.
The shows will run from June 29 – August 24, with an opening reception on Saturday, June 29th from 6-8. All exhibitions are free and open to the public.
Momentum features the monumental sculptures of Wesley T. Brown. His rustic work possesses echoes of artifact and architecture. Dark, reduction-fired surfaces give the appearance of cast iron or rusted implements, fitting as he "forges" the clay as he builds.
"These pieces speak a language of unrefined living. Rough and with beaten exteriors these pieces move crudely from sculptures into the world of utility. Each work is a collection of parts hammered, pressed, and pushed into a singularity. The many parts overflow, ebb, and encroach on each other as I seek a point of completion and balance. The harmony of the work emerges in the interruption of the continuality of the elements." – Wesley T. Brown
Jason Piccoli's show Resonance reflects the medley of decisions that are harmonious in the collected body of work and in the individual. Thoughtful attention to his craft, he brings a cohesion between the elements of proportion and surface, with a variety of techniques from water-etching to underglaze painting. Piccoli works with porcelain, finely thrown, then assembled into complex functional wares of lidded jars, vases, and pouring vessels.
"In the end it is about trying to make work as consciously and honestly as possible. Taking risks and pushing the materials and ideas to their boundaries propels work forward and is essential to the evolution of a developing system. Every piece is the evolution of an idea brought into material form until the result has reached some sort of peak expression. Though often taking a Taoist approach to things, the peak is only an opportunity to plunge into a different valley and climb a different hill." – Jason Piccoli
Our Solo Gallery host's Hannah Pierce's A Fault In My Structure exhibition, featuring an array of narrative, highly detailed small scale sculptures displayed both on and off the wall alongside equally illustrative, mixed media installations. Using quirky characters, architectural components, and childish inspirations, Pierce creates disorienting spaces filled with pop surrealist imagery, exaggerative perspectives, and dramatic shifts from 2-d to 3-d.
"My work consists of surreal, narrative-driven sculptures that primarily portray bizarre characters and various elements from urban environments. Within my playful, architectural configurations, I utilize deceptive, illustrative qualities and exaggerative forms to distort the viewer's perspective and enhance the theatrical nature of these narrative works." – Hannah Pierce
Our Project Space Gallery houses In One Piece, the installation work of Hae Won Sohn, where she hightlights the material-ecosystem within her studio practice and space. Fragmented objects are naturally/artificially formed, processed, and preserved both digitally and by hand in an unscripted manner. The work on display will range from digital prints to small sculptures.
"My Artistic practice evolves through the process of casting and mold-making; physically, conceptually and methodically. I primarily create (series of) cast objects. The origin of these cast objects are substances that are produced in my studio, through my studio practice—either by intention or not. Residues, leftovers, remains, and remnants, which were once valuable parts in the context of one process no longer holds the same meaning, function, nor value once they are removed from its system." – Hae Won Sohn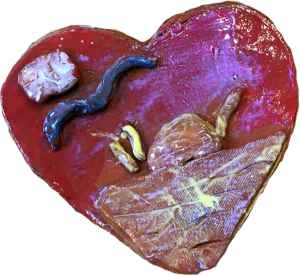 In our Community Arts Gallery, we are proud to present Clay from the ARC Classroom. The work in this exhibition was made in our "Fundamentals of Handbuilding" class, a partnership between Baltimore Clayworks and ARC Baltimore. The class is open to anyone, regardless of ability or experience, who wants to learn hand building. Students are introduced to the basic principles and techniques of creating both functional and sculptural work. ARC students make up the greatest number of students in the group but it's running as truly inclusive.
Proceeds from the sale of the work from this exhibit will be split between the artist and funding to help the class continue.
Walkthroughs of Current Shows
Swipe through for images of each exhibition.
Interested in a piece? Please contact Mary Cloonan, our Exhibitions Coordinator, at mary.cloonan@baltimoreclayworks.org.
Wes Brown's "Momentum" solo exhibition
Jason Piccoli's "Resonance" solo exhibition
Hannah Pierce's "A Fault In My Structure" solo exhibition
Hae Won Sohn's "In One Piece" solo exhibition
Upcoming Exhibitions
September 7 – November 2, 2019
Main Gallery: Mary Bowron, Carren Clarke-McAdoo, and Allison Coles Severance
November 16 – December 31, 2019
All galleries: Annual Winterfest exhibition