Clay from the Classroom, Red Clay Rhythm, and Desert Lands
May 25, 2019
@
8:00 am
–
June 22, 2019
@
5:00 pm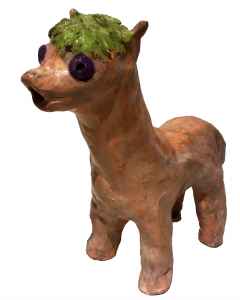 Baltimore Clayworks is excited to host 3 unique exhibitions from May 25 – June 22, 2019. They include: Clay from the Classroom, Desert Lands, and Red Clay Rhythm. There will be an Artist reception on Saturday, June 15 from 6-8pm.
In our Main Gallery, Clay from the Classroom is our annual exhibition celebrating the talent and triumphs of our students, featuring beginner through advanced ceramic art from our various classes from the past year. In addition, we will feature our Springboard and Mezzanine artists who also have their studio spaces in our classroom building.
Functional wares like mugs and bowls to more complex forms such as teapots and jars will show off the techniques and skills of our students. Tile work, figurative and abstract sculptural art are also part of the show and reflect our course offerings. With our variety of firing possibilities, the artwork ranges from low-fire majolica and mid-temperature electric, to high-fire gas reduction, soda- firing and wood-fired finishes. All work was created with the guidance and experience of our dedicated instructors, whose work will also be on display in our Solo Gallery. As professional studio artists themselves, they share their expertise to nurture all levels of our students on their creative journey. Clayworks is so proud to showcase the beauty and variety in our creative community!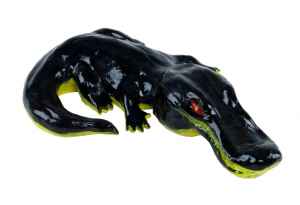 On display in our Community Arts Gallery is Red Clay Rhythm, featuring a collection of works made by various artists at Make Studio and The Hussman Center. Make Studio is a fine arts program dedicated to serving artists with disabilities in Baltimore. This show will include not only colorful and inventive ceramic sculptures, but painting, drawings and mixed media pieces. The ceramic pieces were created during a series of workshop sessions lead by Baltimore Clayworks' Abilities Fellowship Artist, Hannah Pierce.
This show will also include a large ceramic puzzle—a collaboration created by a group of neuro-diverse individuals, including Towson University students at The Hussman Center for Adults with Autism. To create these pieces, each person either cut out a few pieces or decorated them. The array of shapes and colors of the various puzzle pieces celebrate the diversity within this incredible group of multi-talented individuals who used this class to development friendships and experiment with clay.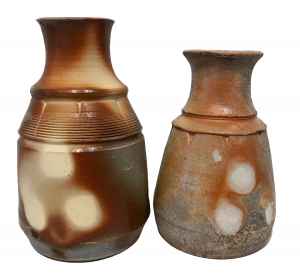 On display in our Project Space Gallery is Desert Lands, a group exhibition curated by Ariel Cavalcante Foster, featuring works by Amber Eve Anderson, Pat Halle, Antoinette Nero, Katie Shlon, and Hae Won Sohn. Desert Lands is a multidisciplinary show with works in clay, collage, photography, sound, and performance as a curatorial endeavor into an appreciation of nature and the desert as a place and mythological symbol of our destiny's being the journey. The works are discoveries in nature within the artists' practice. The artist's process are reliant on certain aspects of nature's forces including material, fire, acoustics, and landscape that share the visual and auditory themes of desert lands, empty vastness. The art works incite self-reflection and connection with the natural world.
This curatorial endeavor was inspired by Woman who run with Wolves by Dr. Clarissa Pinkola Estes and The Alchemist by Paulo Coelho, two books that enlighten their readers through desert myths to discover parts of ourselves during our life's journey and learn that we are the destination we seek.
There will be an Artist Reception for Desert Lands on June 2 from 1-4 pm, during which artist Katie Shlon will create a unique hand-built instrument and then perform with it alongside 2 others.
All exhibitions are free and open to the public.