For over 39 years Baltimore Clayworks has distinguished itself nationally and internationally for our unwavering support of ceramic artists and for our cutting-edge community arts engagement to the underserved communities of Baltimore. Throughout three decades of continuous operation, Clayworks has developed into a treasured ceramic art center providing quality arts programming to thousands of people annually.
Our Resident Artist program is a community of artists with shared experiences working at a critical time in their career. We provide the opportunity for artists to develop their work, exhibit in our galleries, and teach in our educational and community arts programs. These positions are highly competitive and we receive applications from artists all over the world. Once juried into the program, Resident Artists' terms are for one year, renewable up to three years. Upon completion of their residency, many of our artists remain in the area, sharing their knowledge and experience, and building relationships within the greater Baltimore community.
We are excited to welcome 2 new long-term resident artists to our community in September 2019: Samantha Briegel and Emily Lamb.
Samantha Briegel will be the new Lormina Salter Fellowship Artist, an honor that comes with a stipend and solo exhibition. Samantha is an artist who explores the relationship between the body and clothing through her handmade functional wares. She is from the foothills of the Great Smoky Mountains in Knoxville, Tennessee. She received her BFA from the University of Tennessee-Knoxville, and her MFA from Ohio University. She has been an intern at the Archie Bray Foundation Clay Business, a post-baccalaureate student at the University of Montana, and, most recently, a resident artist at District Clay Center in Washington DC. Samantha says: "I am looking forward to joining the Baltimore Clayworks community! I have heard only good things about the strong community surrounding Clayworks. I am excited to be a resident, especially in its 40th anniversary year. Once I move in, please do not hesitate to come say "Hey!" I can't wait to see how my new environment will affect my work this coming year."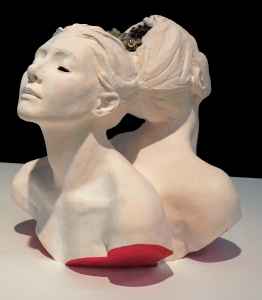 Emily Lamb is an artist who explores questions regarding the human body, both physical and metaphysical, in her experimental mixed-media sculptures. She is from Denver, Colorado and came to the East coast to earn her BFA at Virginia Commonwealth University School of the Arts in Richmond, Virginia. She is a recipient of the TOAST Grant, multiple VCU scholarships, as well as partial/full scholarships to Penland School of Crafts, Haystack Mountain School of Crafts, and Pilchuck Glass School. Her art has taken her across the country, to Denmark and Norway, and now to Baltimore. Emily says: "I look forward to sharing my knowledge through teaching and joining the Baltimore Clayworks community where I will meet other creatives, make new connections and continue to learn. Being part of Clayworks will further my pursuit of innovative large scale figurative work incorporated with blown/flame-worked glass."
Samantha and Emily will join Clayworks' current long-term residents Jason Piccoli and Hae Won Sohn in our studios. Their residencies will start in September, at which point we will welcome them with a community event. Join us on Friday, September 13 for a bar-b-que from 4-6pm, and artist talks from 6-7pm.