Our April Artist Spotlight feature is with Resident Artist Jason Piccoli. Jason came to Baltimore Clayworks as a Resident Artist in the summer of 2018. A native of Colorado, he studied Fine Art at Arapahoe Community College where he earned his Associate's. He then earned his BFA in Ceramics at Metropolitan State University of Denver, and later his MFA in Ceramics at Edinboro University of Pennsylvania. Before coming to Baltimore, Jason was a Resident Artist for 2 years at the LUX Center for the Arts in Lincoln, NE. Jason teaches classes for all skill levels in our Mt. Washington studio, while maintaining his studio practice where he bridges the functional, the sculptural, and the painted image.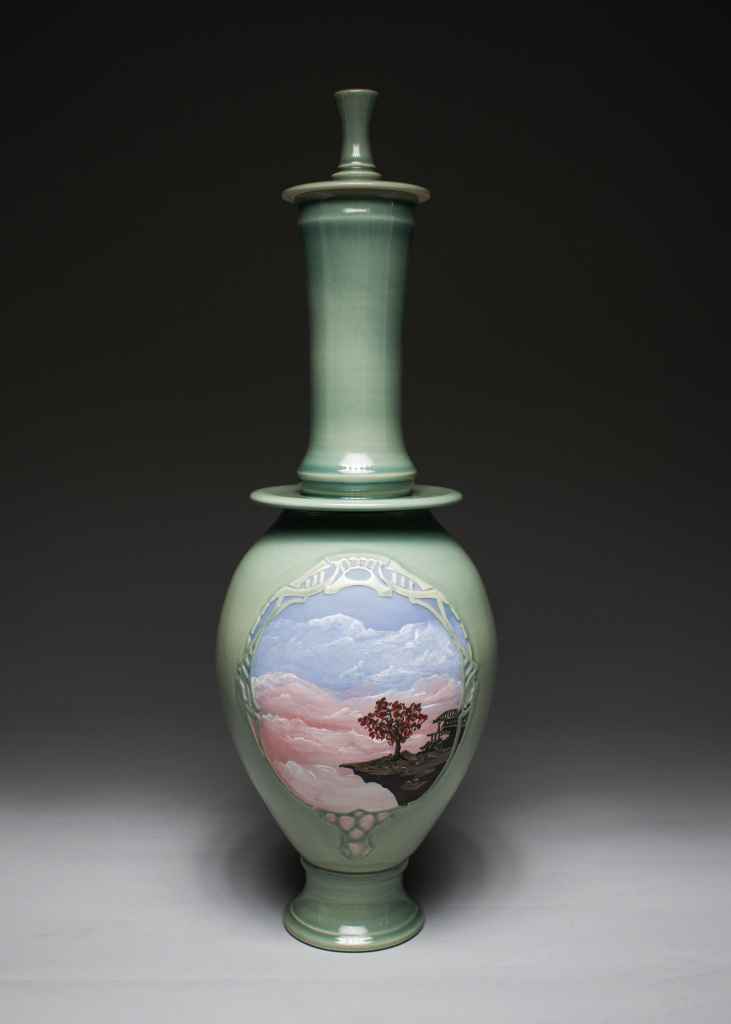 Question #1: What kind of work do you make and why do you make it?
(WHAT) I make a wide variety of wheel thrown, trimmed and assembled forms that are both functional and sculptural, with a touch of ritual. Glazed with transparent celadons, they often feature underglaze paintings in select areas that reference calm scenery and/or landscaping with architecture.
(WHY) It makes me feel satisfied and happy! I have always been drawn to challenges present in ceramics and love exploring the potential of the medium through various styles, methods and disciplines I've caringly developed over the years.
Question #2: What drew you to clay?
A perfect medium to create the things I draw. I am inspired by the many layers of function inherent in ceramic objects.
Question #3: What is your fondest or funniest memory associated with clay?
During the tour of a kiln room stuffed with the rest of our class, I stood too close to a peep hole and it burned a huge hole in the back of my shirt. Shaking a container of glaze or chemicals without making sure the lid is secure always gets me laughing at myself.
Question #4: What is something about yourself or your work that other people may not know about?
A lot of inspiration from my work comes from video games and fantasy literature.
Question #5: What is your favorite thing about Baltimore Clayworks?
That's easy! The people who work there.