Our August Artist Spotlight feature is with Shawna Pincus. Shawna is a ceramic artist living in Baltimore Maryland with her husband, daughter and their cat, Bowie. She grew up right outside of Philadelphia and went to school at the Maryland Institute College of Art where she earned a BFA in sculptural studies. She has taught public school art, led various adult workshops, and served as adjunct professor of Art Education for Towson University. Shawna currently works full time in her studio in addition to exhibiting her pottery in various galleries and fine shops across the country. She also enjoys teaching adult pottery classes at Baltimore Clayworks on Sunday mornings.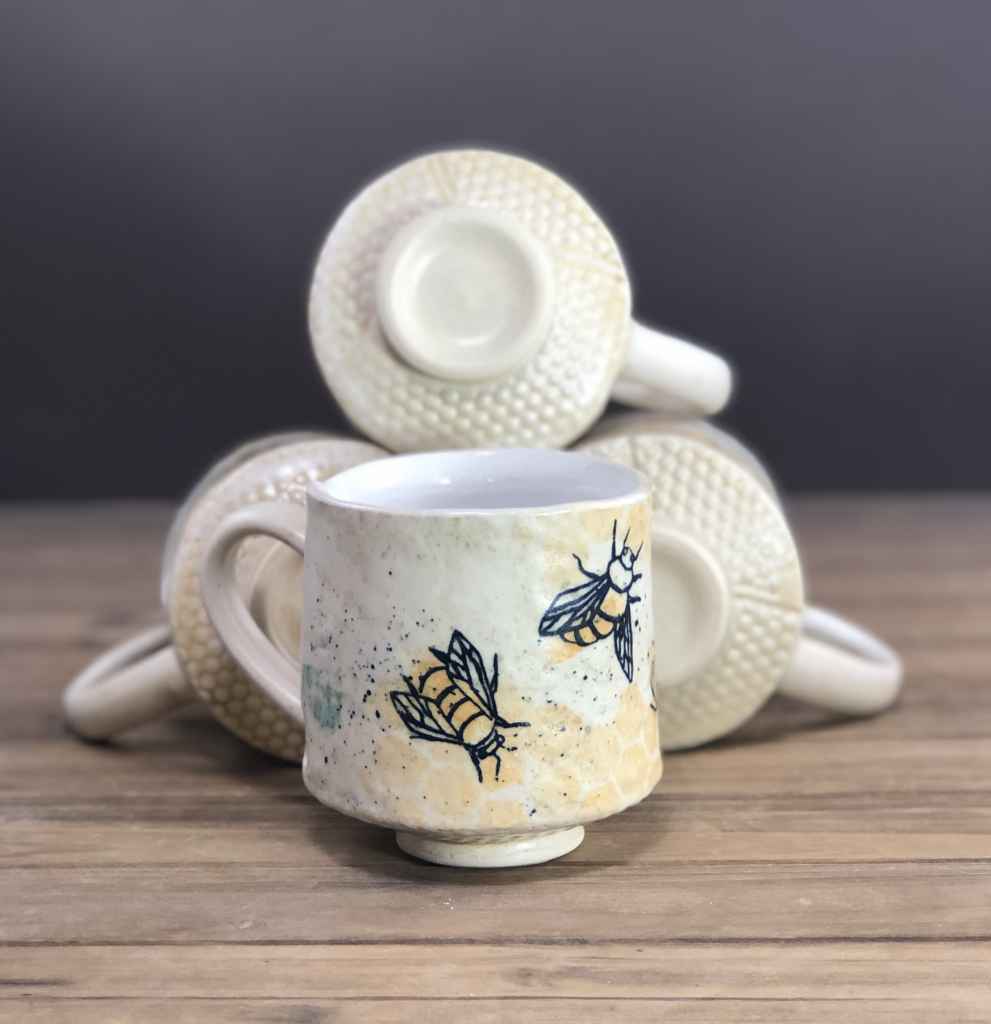 Question #1: What is your earliest memory of clay?
Aside from play dough and elementary art class, my earliest memory of clay comes from the evenings my mom and I spent in the home of a lady named Vicky who ran a very early version of "paint your own pottery". We would spend a few hours every week with a group of local women, gathered around a table in Vicky's basement, chatting, cleaning the seams and painting little slip cast figures. I was the only child there but I loved it so much. I made a whole village of fairies, dragons and castles to decorate my room. As cheesy as it was I think it started my love of decorating clay and building up painted surfaces.
Question #2: Who inspires you and who do you hope to inspire?
So many people inspire me!! I really feel that everyone comes into our lives for a reason and I love to look for the little moments and special relationships that come from each interaction. In my work I hope to capture some of those stories and fleeting moments that make up our human connections. My daughter informs many of my stories and so does my husband so they frequently show up in various illustrations that I use. I hope that I can inspire my daughter to follow her passions and make her dreams a reality when she grows up.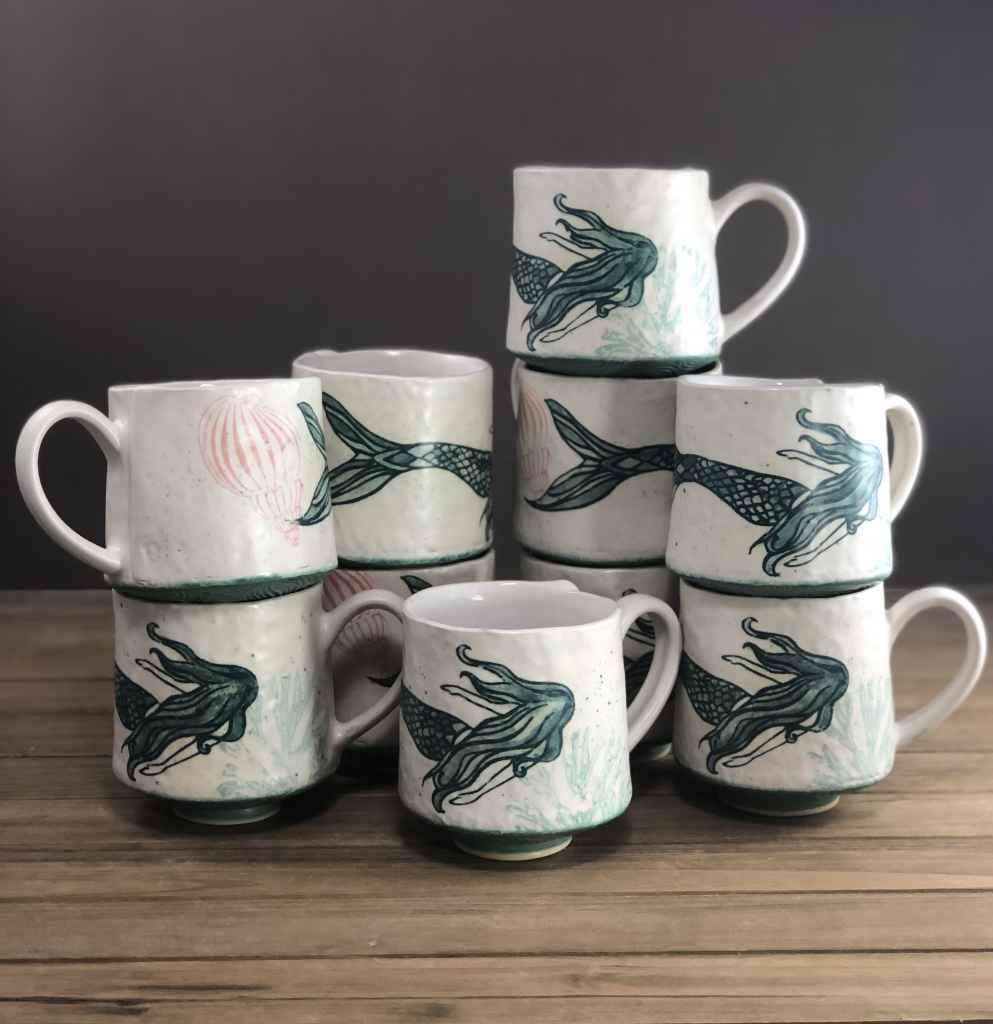 Question #3: What is your fondest or funniest memory associated with clay?
When I first met my husband (we were in college at MICA) he came down into the studio and asked me to teach him to throw pots on the wheel. I think he thought it would be romantic…we all know that movie! It turns out that centering was a bit harder then he thought and the clay flew all over the studio! It was not anything like he expected it to be and we ended up laughing, completely covered in mud and with no pottery to show for it. We now collaborate on paper rather then clay!
Question #4: If you could see your work in anyone's collection, who/where would it be and why?
My goal is to make art that anyone can collect. It's important to me that my work remains accessible to anyone that makes a connection to it. I love to hear that a customer purchased a mug years ago and still uses it every day. Or that someone has an entire shelf in their home dedicated to my pots! Some of my pots live very exotic lives (I have a set of mugs traveling the world via yacht right now!) but really I'm thrilled that people buy my work and treasure it and I hope that my work lives in many kinds of homes and are used and loved. I do love to hear where they end up!
Question #5: What is your favorite Clayworks quirk?
I love the people of Clayworks! I've learned so much from the people who are involved there from the amazing artists who have taught workshops and classes to the students and community members that I see day to day. Clayworks has been a part of my life for the last 20 plus years and I'm truly grateful for all the amazing people who make it what it is.