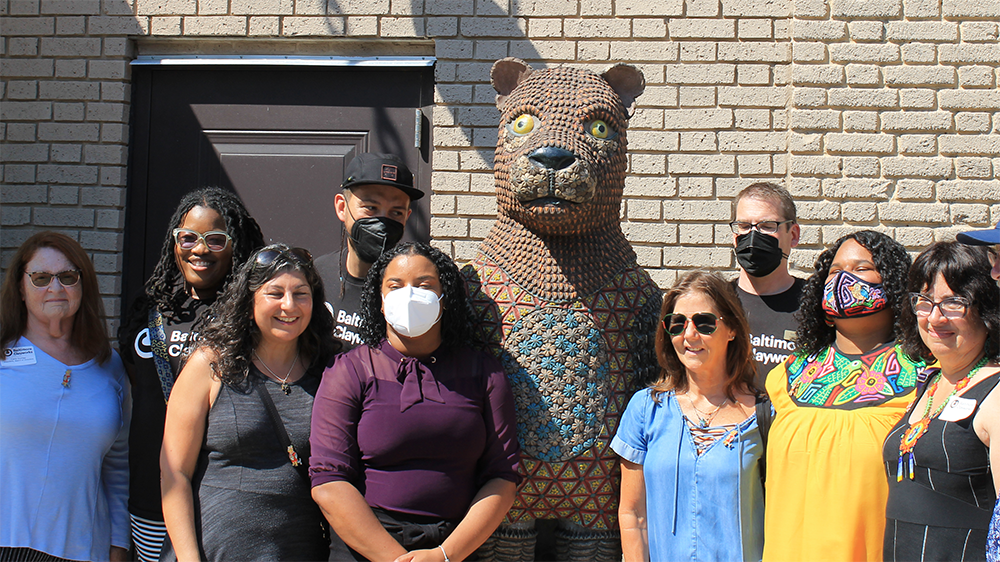 BALTIMORE, MD (September 3, 2022) Baltimore Clayworks partnered with CASA of Maryland, through a grant from the Gutierrez Memorial Fund, to commission Mexican-American ceramic artist, George Rodriguez, to make a totemic sculpture to be displayed in front of CASA's new headquarters. He engaged CASA community members in several hands-on workshops that involved making clay animals and painting tiles that are part of the base for the sculpture. Rodriguez then made 3 character prototypes from which the community chose the totemic, clay, figure to be made.
About the Artist
George Rodriguez was born in El Paso, Texas. He holds BFA and MFA degrees. For the past three years Rodriguez has been Artist-in-Residence at Tyler School of Art, Temple University in Philadelphia. His work explores identity and community. Rodriguez's sculptures are part of the collections of the National Museum of Mexican Art, Chicago, IL; the University of Washington's Paul G. Allen College of Computer Science and Engineering, Seattle, WA and more. Rodriguez's work was recently added to the collection at the Renwick Gallery of the Smithsonian American Art Museum, Washington DC. He is currently working on a large commission of several figures for the Kansas City International Airport.
About Baltimore Clayworks (BCW)
Recognized by the National Endowment for the Arts, BCW was founded by nine artists in 1980. Our mission is to develop, sustain, and promote an artist-centered community that provides outstanding educational, residency, and collaborative programs in the ceramic arts. We offer classes and workshops for adults and children, host short and long-term residencies for emerging artists, present rotating exhibitions along with a retail shop featuring the work of local and internationally recognized ceramicists, and BCW utilizes the universal medium of clay to engage under-resourced communities in and around Baltimore.