Jenny Reed, Lormina Salter Fellow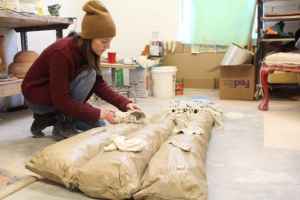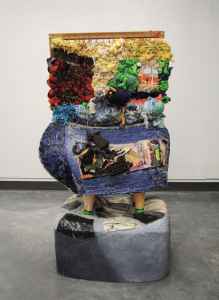 Originally from Louisville, Kentucky, Jenny Reed received her BFA degree in 2014 from Northern Kentucky University. She then taught at community art centers in Louisville before completing a post-baccalaureate program at Indiana University Southeast. She received her MFA from Indiana University Bloomington this past May. Her practice continues to progress through experimentation and the incorporation of new techniques. She has taken printmaking and book making courses in Venice, Italy, and has received scholarships for workshops at craft schools across the country. Her work has been featured in exhibitions such as Bridging the Gap: Contemporary Craft Practices and the 2018 National Council on the Education of Ceramic Arts (NCECA) Container Show.
Isolina Minjeong Alva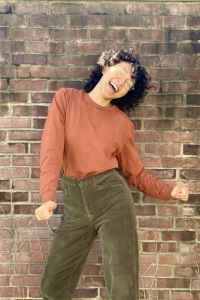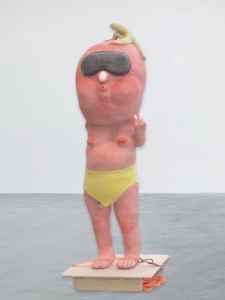 Isolina Minjeong Alva was born in Chicago, IL in 1997 to a professional tennis player and untamed Coyote! Based in Baltimore City, they received a BFA in Ceramics from the Maryland Institute College of Art. With their all-American HOO-RAH studio rhythm, Isolina's work has been the subject of the solo exhibition, "Pink Mountain" (2020) at Baltimore Clayworks and included in the "NCECA Juried Student Show" (2020) amongst others. Along with these experiences, Isolina completed a studio assistantship with Victoria Jang in the summer of 2019, and an internship with Cristina Córdova in the fall of 2020. In the Spring of 2020, Isolina initiated an open-source cross-cultural artist archive called the Holy Compendium, whose mission is to question and build upon previous art historical methods. This project ultimately put Isolina in contact with ceramic activist Ayumi Horie, who Isolina is currently a research assistant for. When Isolina is not holding weekly art history research marathons with Vinutha Venkatesh and Rachel Austin, working at Home Depot, assisting Ayumi Horie, volunteering with Meals on Wheels, or petting their puppy Charlie, you can find Isolina sculpting a dreamland of multicultural ceramic protagonists in their Baltimore Clayworks resident artist space. To check out their work & research, visit isolina.party & theholycompendium.cargo.site.
Emily Lamb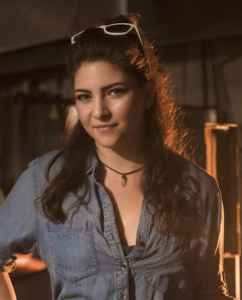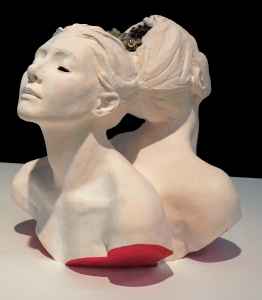 Lamb is an artist who explores questions regarding the human body, both physical and metaphysical, in her experimental mixed-media sculptures. She is from Denver, Colorado and came to the East coast to earn her BFA at Virginia Commonwealth University School of the Arts in Richmond, Virginia. She is a recipient of the TOAST Grant, multiple VCU scholarships, as well as partial/full scholarships to Penland School of Crafts, Haystack Mountain School of Crafts, and Pilchuck Glass School. Her art has taken her across the country, to Denmark and Norway, and now to Baltimore. See more of Lamb's work on her website emilyreneelamb.myportfolio.com.  View a gallery talk with Emily Lamb.
Jason Piccoli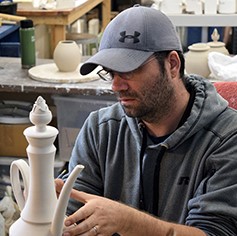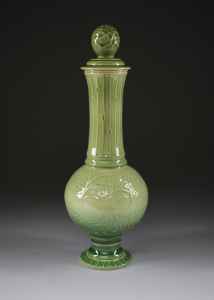 Piccoli is a native of Colorado and grew up moving between Littleton, Denver and Arvada. He spent his youth devouring sources of science fiction, fantasy, eastern thought, and obsessing about ancient cultures. He practiced painting, drawing, and lived with guitars. He studied Fine Art at Arapahoe Community College earning his Associate's in Art, where he found his passion for clay and a fondness for the community that surrounded it. He earned his BFA in Ceramics at Metropolitan State University of Denver, and later his MFA in Ceramics at Edinboro University of Pennsylvania. In graduate school he wanted to explore the idea of bridging the functional, the sculptural, and the painted image. See more of Piccoli's work on his website jasonapiccoli.com.