Clarissa Pezone, 2021/22 Lormina Salter Fellow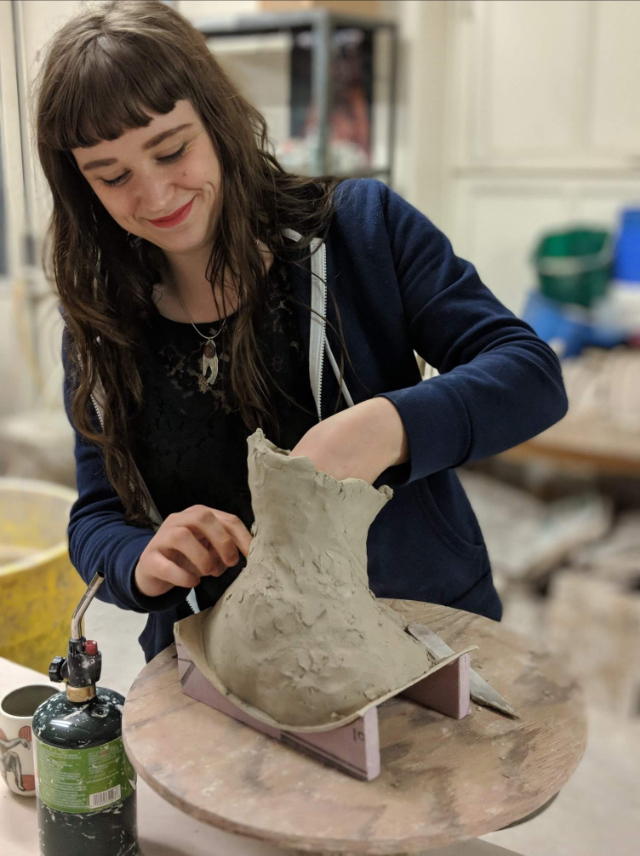 Clarissa Pezone is a ceramic sculptor originally from Sacramento, CA, and now residing in Baltimore, MD. She received her BA in 2013 from Humboldt State University in northern California and an MFA from Indiana University Bloomington in 2021. Her current work depicts realistic figurative sculpture and found objects in installations that center in private space and moments. Her practice includes the construction of trompe l'oeil objects that depicts the power of personal objects to hold memory, legacy and self-hood. Clarissa has been the recipient of numerous awards and fellowships, including the Young Sculptors Award, the Christyl Ann Boger Memorial award, as well as a Windgate University Fellowship to attend Arrowmont School of Arts and Crafts. Her work has been shown in solo and group exhibitions nationwide, including the NCECA Juried Student Show in both Minneapolis (2018) and Pittsburgh (2019), The Indianapolis Art Center (Indianapolis, IN), The Morris Graves Museum of Art (Eureka, CA), and the American Museum of Ceramic Art (Pomona, CA). Images of her work can be found at: http://www.clarissapezone.com/sculpture.html
Vanna Ramirez, 2021/22 Long-Term Resident Artist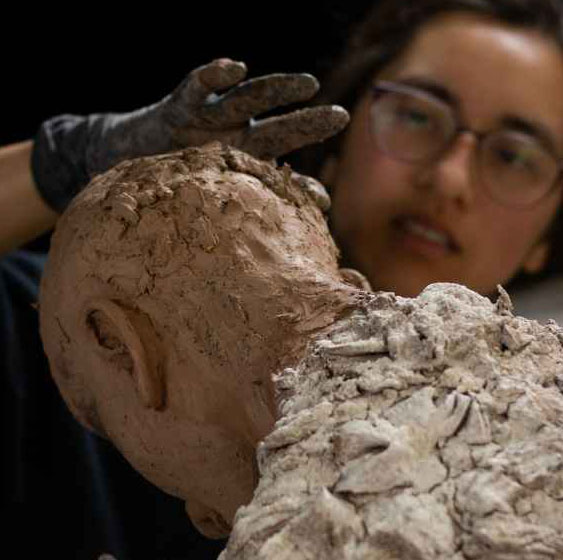 Vanna Ramirez is an artist with a passion for clay who also explore various other mediums. She holds a BS in studio art from Skidmore College, and has attended the NCECA's 53rd annual clay conference as a Multicultural Fellow, a residency at the Red Lodge Clay Center, and workshops at Penland School of Craft and Haystack Mountain School of Crafts. She recently began her new journey as a self-employed artist in Baltimore, Md. See her portfolio at her website.
Emily Lamb, 2021/22 Long-Term Resident Artist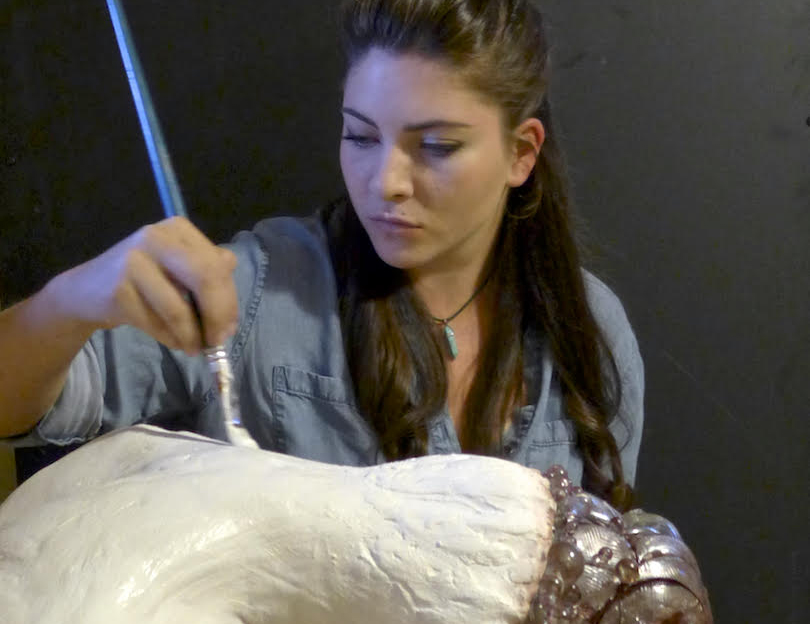 Emily Lamb came to Baltimore Clayworks in September 2019 as a long-term Resident Artist. Shem explores questions regarding the human body, both physical and metaphysical, in her experimental mixed-media sculptures. She is from Denver, Colorado and came to the East coast to earn her BFA at Virginia Commonwealth University School of the Arts in Richmond, Virginia. She is a recipient of the TOAST Grant, multiple VCU scholarships, as well as partial/full scholarships to Penland School of Crafts, Haystack Mountain School of Crafts, and Pilchuck Glass School. Her art has taken her across the country, to Denmark and Norway, and now to Baltimore. Emily teaches figure classes at Baltimore Clayworks. Images of her work can be found at: https://emilyreneelamb.myportfolio.com/.
Artist Spotlight Feature with Emily Lamb.
Jason Piccoli, 2021/22 Long-Term Resident Artist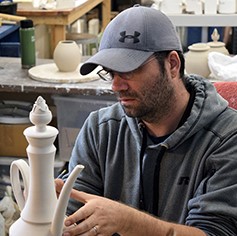 Piccoli is a native of Colorado and grew up moving between Littleton, Denver and Arvada. He spent his youth devouring sources of science fiction, fantasy, eastern thought, and obsessing about ancient cultures. He practiced painting, drawing, and lived with guitars. He studied Fine Art at Arapahoe Community College earning his Associate's in Art, where he found his passion for clay and a fondness for the community that surrounded it. He earned his BFA in Ceramics at Metropolitan State University of Denver, and later his MFA in Ceramics at Edinboro University of Pennsylvania. In graduate school he wanted to explore the idea of bridging the functional, the sculptural, and the painted image. See more of Piccoli's work on his website jasonapiccoli.com. Artist Spotlight feature with Jason.
Daeun Lim, 2021/22 Short-Term Resident Artist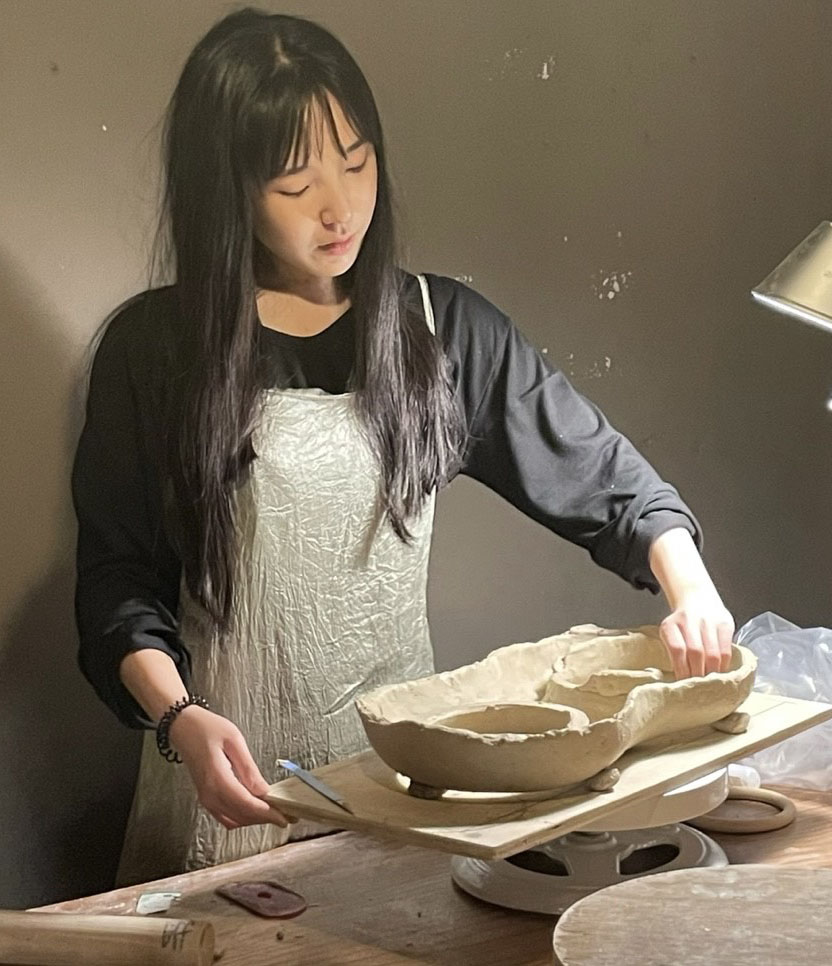 Daeun Lim was born in Busan, South Korea, in 1992 and lives and works in Seoul, South Korea. She received her MFA in Ceramic Art at Ewha Woman's University in Seoul, South Korea in 2019, and her BFA in Ceramic Art, Ewha Woman's University in 2016. She has completed Artist Residencies at Clayarch Gimhae Museum, Gimhae, South Korea (2019), New Harmony Clay Project, New Harmony, IN, (2021), and Arquetopia Ceramics Residency, Puebla, Mexico (2021). In 2019 Lim was awarded the Young Artist Award, Cluj Ceramic Biennale, Cluj-Napoca, Romania (2019). You can learn more about her practice at https://www.daeunworks.com/.