Never Have I Ever – Solo Exhibition by Yoko Sekino-Bové
September 11, 2021
@
6:00 pm
–
October 30, 2021
@
5:00 pm
Artists Reception – September 11, 2021, 6-8pm
Free and open to the public.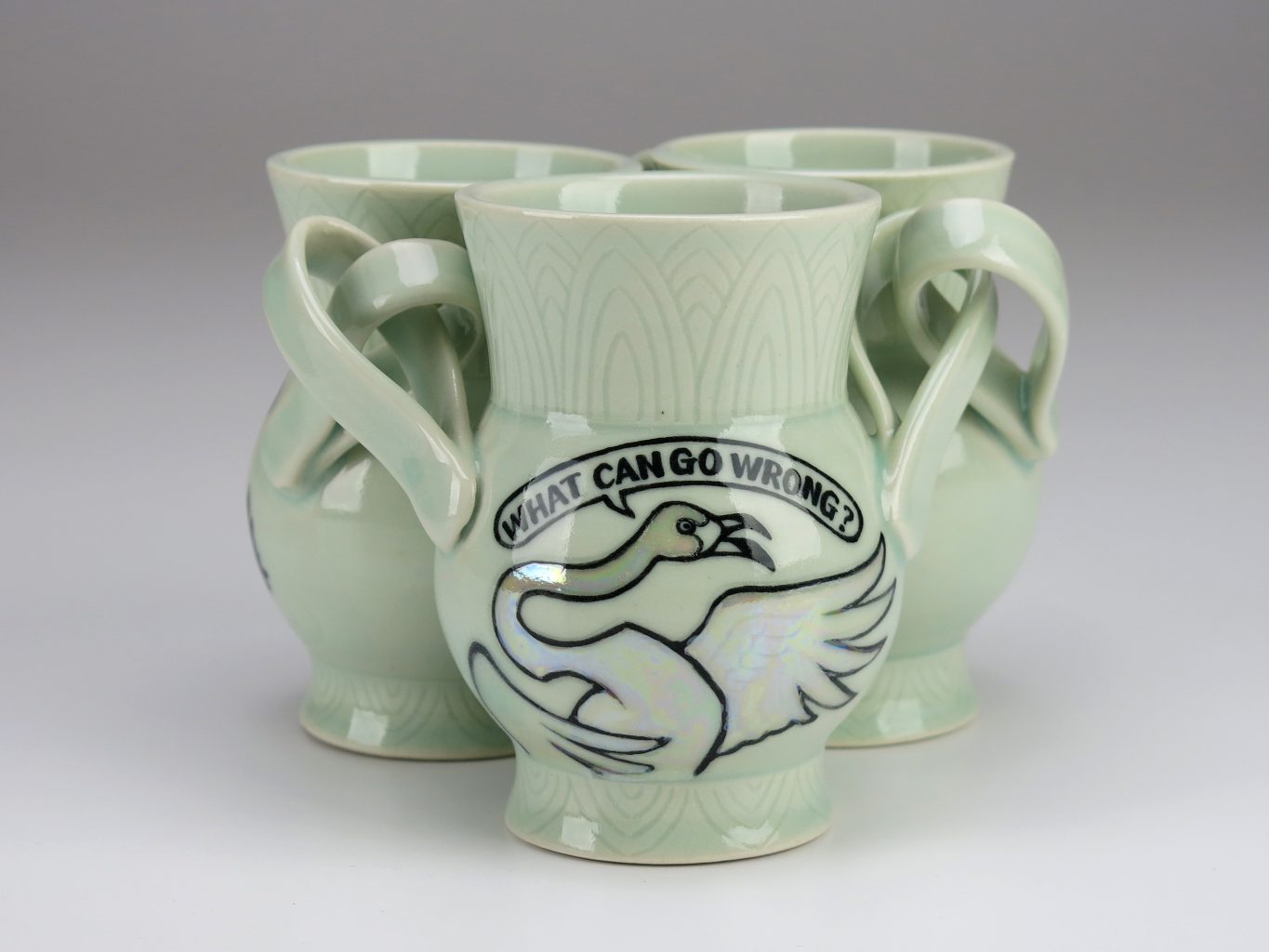 A mentor once said that our job as an artist is not to provide answers, but to make the questions clear. Over the past year our social groups shrank, and our time with people became more thought out and selective. In essence, we curated our social interactions, selecting the ones most valuable to us and collecting them.
This exhibition, a collection of intimate, social drinking vessels, such as tea sets, cups, and sake sets, is a response to the pandemic and how we focused on the people, objects, and rituals most important to us, like coffee served in a favorite mug with a friend. It feels appropriate to present a collection of ceramic pieces that are designed to entertain on a smaller scale at home.
This body of work focuses on the more symbolic and/or anthropological nature of the objects in order to examine how these ceramic vessels have been a part of our social history. Vessels designed as games, such as the British Puzzle Jug, or fuddling cup, are a great challenge to me in both the construction and design, and is a mediation on the importance of objects as aids to social interactions. Korean people enjoy a small shot glass with a hole on the side, which forces you to finish the drink before putting the cup down. There are so many "silly" ceramic wares that have been delighting us in many cultures. These ideas were exchanged, traded, and shared beyond languages, religions, cultures, and differences, and valued for helping people come together.
The title "Never Have I Ever" is the name of a drinking game in which players take turns asking other players about things they haven't done. Other players who have done this thing respond by taking a drink. A version that requires no drinking, "Ten Fingers", usually played by children and adolescents, have players counting score on their fingers.
Between stories and function, I hope this body of work will remind you that there is so much play and joy in our lives.
---
September 11 – October 30, 2021
Free and open to the public.
Gallery Hours: Tuesday -Saturday, 10am-5pm
Related Events