Join Us for the Opening Receptions for Our Three 2023 Winter Exhibitions. Meet the Artists!
January 14
@
5:55 pm
–
8:00 pm
Join Baltimore Clayworks at a reception on Saturday, January 14 from 6:00 to 8:00 p.m. to celebrate the opening of the three shows. Meet the artists, curator, other ceramic art lovers, and our dedicated staff. Light refreshment will be served at the reception, which is Free and Open to the Public.
Exhibitions runs trough March 25, 2023. Exhibitions are free and open to the public for viewing Tuesday – Saturday from 10:00 a.m. to 5:00 p.m., Sunday from 12:00 to 5:00 p.m.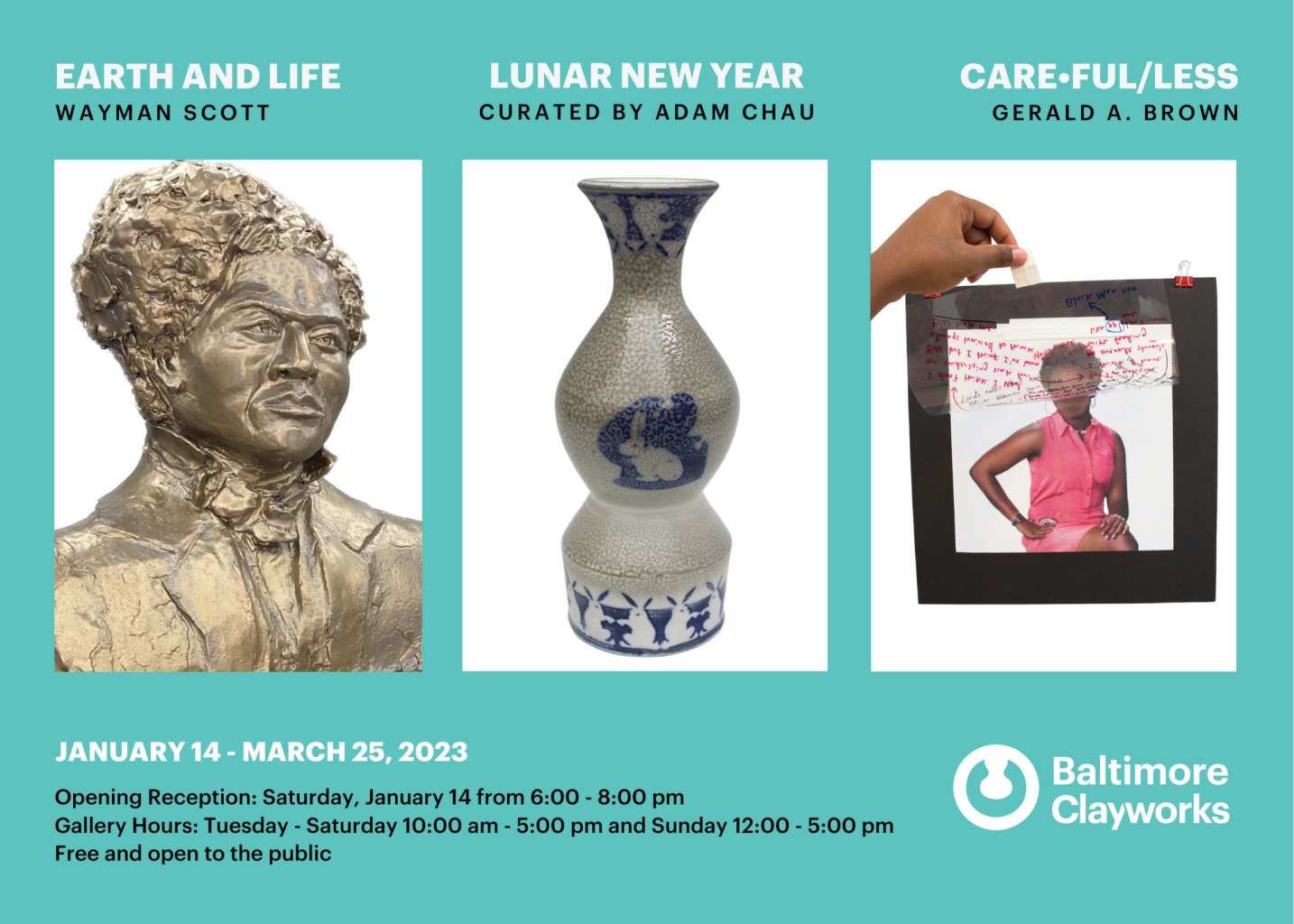 The Lunar Project, started by curator Adam Chau in 2019, is a series of exhibitions across the United States featuring artists that celebrate the Asian New Year. Fourteen artists are invited to create a work inspired by the animals from the Asian zodiac – a rabbit for the year 2023 – which will be exhibited at Baltimore Clayworks. It is important to note that multiple cultures are represented in this project, thus far including China, Hong Kong, Japan, Korea, Myanmar, Taiwan, Thailand, and Vietnam.
Participating Artists
Ian Basset, Ling Chun, WangLing Chou, Grace Gittelman, Gunyoung Kim, Steven Kin, Nikki Lau, Cindy Leung, Mari Ogihara, Eun-Ha Paek, Shoji Satake, Juliane Shibata, Hitomi and Takuro Shibata, Micah Sweezie
Dedicated to the journey of self-actualization, Care•ful/less is a glimpse at the inherent friction occurring internally when realizing one's fullest self. Tending to one's gifts, flaws and dreams is messy and often conflicts with one's desire to be more careless or more careful. Does the act of caring less make you more mindful of oneself? Or does being very careful make you deserving of care from others? Can negligence be advantageous and who does it primarily serve? At the intersection of optimism and bitterness, I wonder how caring am I really. This show is a moment of celebration and bereavement. In the midst of shedding old ways, this is a grand toast as well as salute to internal battle waged, within a young Black girl.
EARTH AND LIFE, pays tribute to historical figures and bears witness contemporary struggles. It highlights the likes of Mother Mary Lang, who founded the first black catholic school in America, along with Frederick Douglass, and Elijah Cummings for their work toward civil rights and freedom of black people during their lives.
The killing of unarmed black people prompted me to sculpt a new Pieta to highlight the value of black life. EARTH AND LIFE, displays an interpretation of Michael Angelo's Pieta with Jesus and Mary as African American people to show that black lives matter. Johnny J who models Jesus is a GNA and hospice aide who shared how his experience of police harassment effected is ability to trust police. Sharmean Y who models for Mary is a GNA has two brothers who serve as police officers. While both models have different experiences, they both support the movement for Black Lives.
Free and Open to the Public Tuesday – Saturday from 10:00am to 5:00pm, Sunday from 12:00 to 5:00pm.