Fire Fest 2023
October 21
@
5:00 pm
–
8:00 pm
With ceramic firings reaching temperatures of molten lava, flame-broiled burgers, folk music, festive libations, and a fun and frenzied Clay Olympics, Fire Fest is an exciting celebration of fire.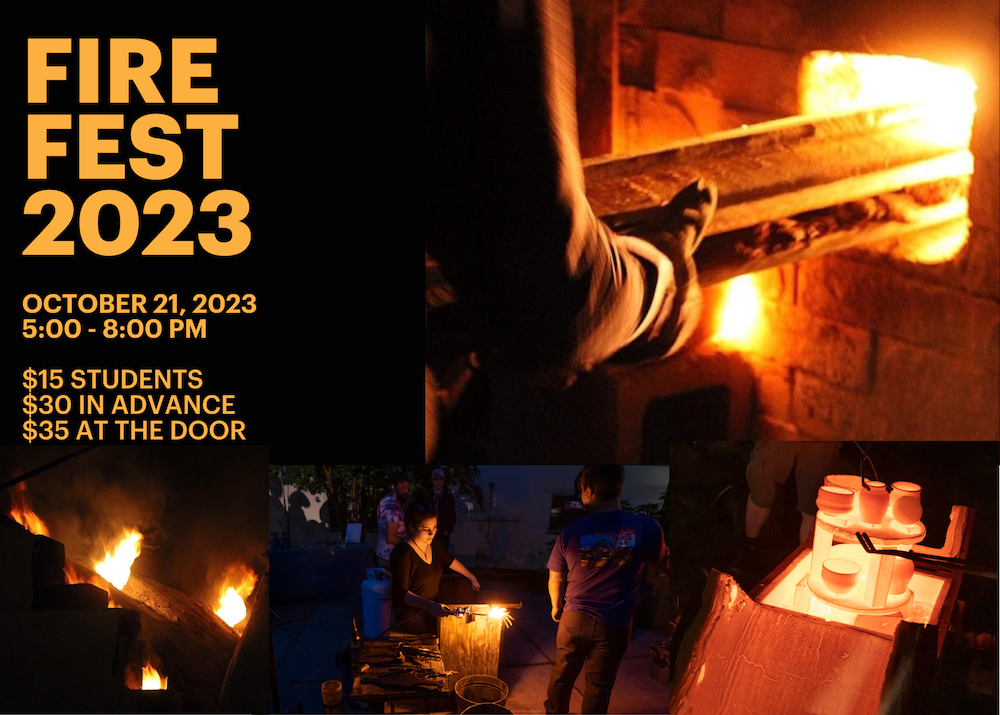 Fire, both seductive and wild, is essential in creating ceramic wares. Join the Baltimore Clayworks community for the unexpected during our expedition of firing techniques from around the world.
Watch live demonstrations! Experience Raku kiln firings, with origins tracing back to China and Japan, and an Obvara kiln firing, lead by professor Trisha Kyner of CCBC, with origins in the Baltic region of Eastern Europe. Both ceramic firing processes are thrilling and involve pulling clay vessels from a 1650°F kiln and then quickly plunging them into cooler materials that shock the glaze and create mesmerizing markings.
Test your clay skills! Sign up to participate in the Clay Olympics, multiple competitions and feats of strength that will take your clay skills to new heights – literally. Winners will earn handmade clay prizes.
Throughout Fire Fest and the weekend, guests can also experience Baltimore Clayworks' Community Woodfiring of our Noborigama kiln, the first urban Japanese ascending kiln operating in the Baltimore region. Wood Kiln Technician Jeremy Wallace will lead students from Towson University, Community College of Baltimore County, Anne Arundel Community College and Morgan State University through the two-day firing process. During this time, the kiln must be fed wood, day and night, to reach 2300°F. Vessels take on a rich variety of colorful flashing and unpredictable glaze effects from either the wood ash or soda chamber. After a week of cooling, pieces emerge with markings from their nights spent dancing with fire.
Fire Fest Admission Ticket includes:
Access to multiple demonstrations
Live music from The Honey Dewdrops – Baltimore-based experimental folk duo
Two sliders from Abbey Burger (beef, turkey and vegetarian options)
1 Union Craft Beer, Wine from Boordy Vineyards, Hex Ferments Kombucha, Hot Coffee or Hot Cider from Southeastern Roastery or other non-alcoholic beverage
Eligibility to enter the Clay Olympics – sign up at Fire Fest
Proceeds from this event will ensure the continuation of the incredible artistic and educational programs housed at Baltimore Clayworks' Mt. Washington studio and gallery and in locations around Baltimore City through our Community Arts program. Enjoy a fun-filled evening with friends and family and make a difference by supporting clay artists of all ages and abilities across the Baltimore region.