FIRE FEST 2022 NEWS – Schedule of Events Added. Get Tickets Here.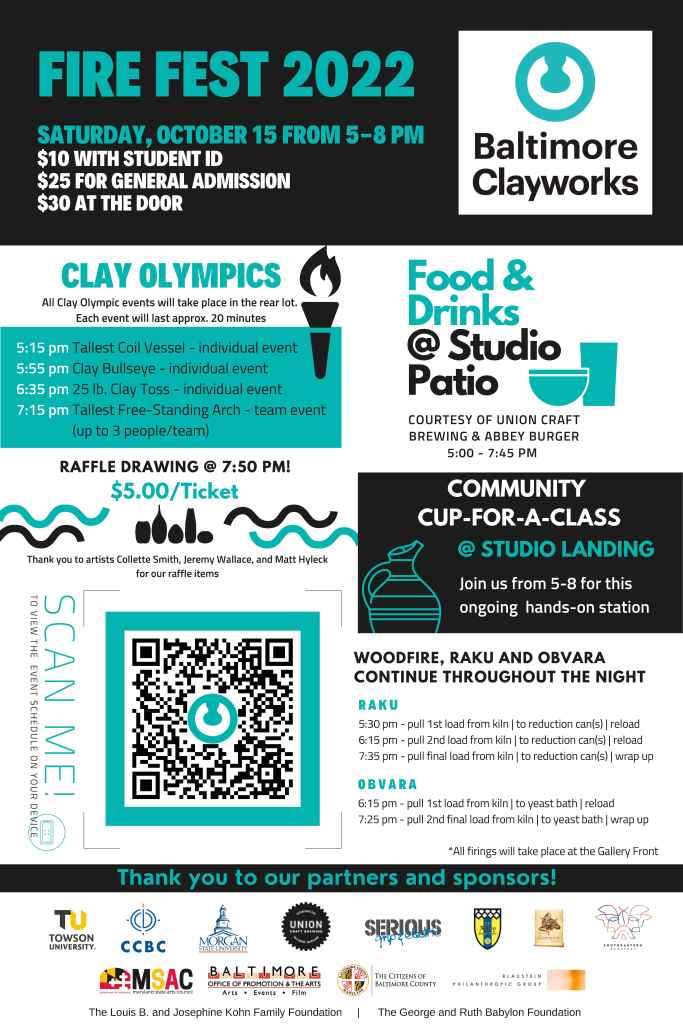 October 15, 2022
@
5:00 pm
–
8:00 pm
$10 with Student ID | $25 for General Admission | $30 at the door
Baltimore Clayworks invites you to Fire Fest on Saturday, October 15, from 5:00-8:00 pm. Come for an evening of fiery celebrations including Clay Olympics, music, food, drinks, and live kiln firings. Tickets are $10 for students with valid ID, $25 for members, and $30 at the door. Tickets are currently available by phone at (410) 578-1919 x210 or in person at 5707 Smith Ave; Baltimore, MD 21209. 
Fire Fest is an exciting celebration of fire – one of a ceramic artist's most important tools. Fire is essential to create ceramic wares, and can be seductive and dangerous. During the FireFest evening, artists will lead live Raku kiln firings and CCBC Essex Professor Trisha Kyner will lead her students in a live Obvara kiln firing. Both of these ceramic firing processes are thrilling and involve pulling a piece of clay from a 1650°F kiln and then cooling it rapidly. Baltimore Clayworks Noborigama kiln will also be firing during FireFest. Clayworks Woodkiln Technician Jeremy Wallace will lead Towson University, CCBC Essex, and Morgan State University students through the entire two-day firing process. During this time, the kiln needs a continuous supply of wood fed into it. The ash from the wood coats the work in the kiln and creates wonderful, rich glaze effects. Once the kiln reaches the desired temperature of 2300°F, the firing ends and the kiln is left to cool for a week. 
FireFest will also include a music soundtrack, food, beer, and a Clay Olympics where attendees are invited to take part in multiple competitions that will test their clay skills. Winners will earn a handmade clay prize. 
Proceeds from this event will ensure the continuation of the incredible artistic and educational programs housed both at Clayworks Mt. Washington studio and gallery, and in locations around Baltimore City through their Community Arts program. Enjoy a fun-filled evening with friends and family and make a difference by supporting clay artists of all ages and abilities across the Baltimore region.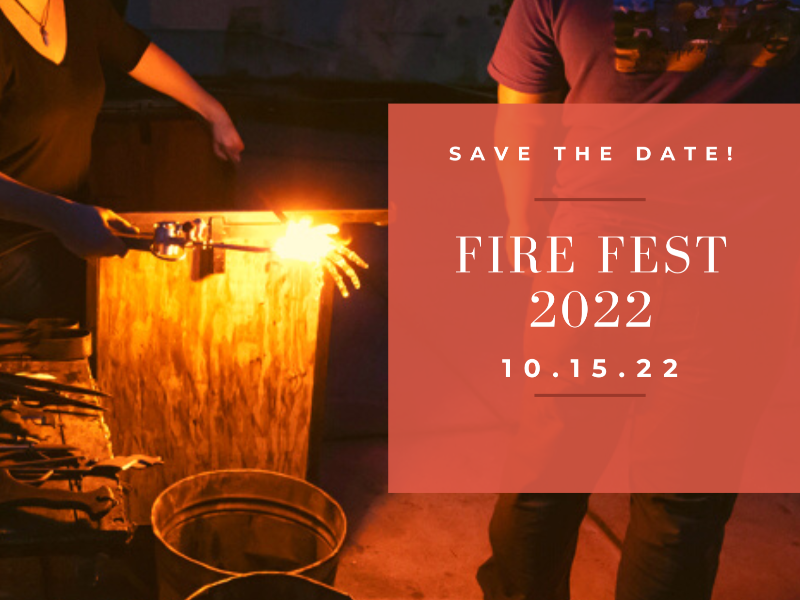 Thank You to our Partners and Sponsors