The entire Baltimore Clayworks community is saddened by the death on Monday, December 10 of our friend and colleague.
Doug Baldwin, famous for his whimsical duck sculptures (duck stadiums, ducks playing games, ducks in studios) was professor of ceramics at Maryland Institute College of Art for 34 years. After retiring, Doug returned to his beloved home state of Montana, lived near his daughter and grandchildren, and became active in the life of The Clay Studio of Missoula. While in Baltimore, Doug engaged many of his ceramics students with the work of Baltimore Clayworks through internships, community teaching and events, keeping the two institutions connected, lively and mutually supportive. Arrangements for a celebration of Doug's life are incomplete at this time.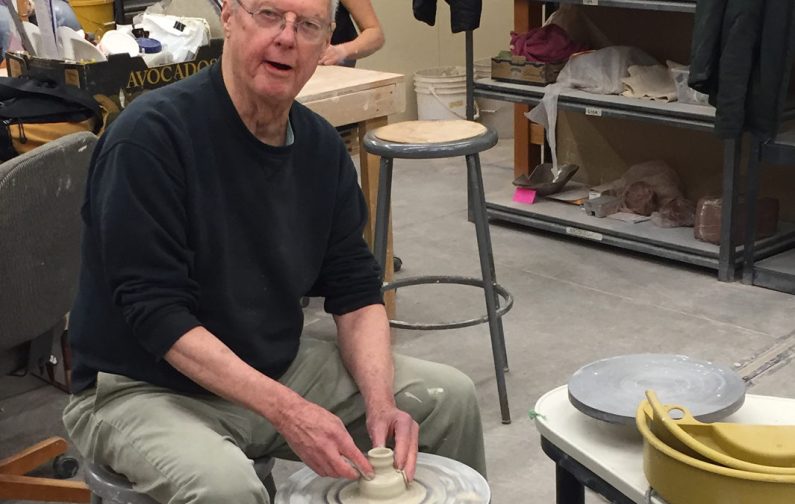 Remembering Doug Baldwin: 1939 – 2018
Dec 15, 2018 for the National Council for the Education of Ceramic Arts
Doug Baldwin. Our Doug. Our Duck Man. How can it be that there will be no more red clay ducks in falling from his fingertips? Who will tell the stories of how artists and other peculiar humans behave in all kinds of situations through the metaphor of a few hundred ducks, or a few thousand ducks? Or maybe a million ducks? Doug, you left us too soon with the present stories of our time still needing your narrative.
Doug's warmth, humor and keen awareness of the human condition gave voice to so many of us again and again as ducks large, small and in multitudes acted out our experiences.  His Great Duck Pottery School Series speaks to students and makers who have had a life in ceramics, portraying our first sad attempts at throwing bowls and firing kilns. We are able to laugh at ourselves, our teachers and  our colleagues with him, a warm and gentle laugh, a knowing chuckle. We are able to enjoy sports and games not as static sculptural statements, but as immediately engaged participants, and enjoying the familiarity and foibles of ourselves and our fellow humans, even if we are created by Doug Baldwin as just ducks.
Doug was wholeheartedly committed to the studio, making art every day, making the ducks and their environments all the time. But the making was not a solitary pursuit for Doug; it was, like the finished pieces, a shared pursuit.  And sharing that joy of making infused Doug's life and interactions with everyone he touched. Here in Baltimore, Doug cheerfully, readily, shared the resources, his professional networks and the students of Maryland Institute College of Art with Baltimore Clayworks and scores of other artists and organizations.  He connected institutions by sending  interns to work and learn in community settings. He held gatherings in his home for artists to show images and talk about their work.  Doug not only created communities of ducks, he created communities of artists and students. national and international, united by clay.
Volker Schoenfliess, a Baltimore Clayworks co-founder, sculptor, and head of ceramics at Baltimore School for the Arts remembers, "He was a kind and quirky influence. I never had him as an instructor, but met him through the clay circuit. I remember the events he held at his Bolton Hill home, and once had the honor of being invited to give a slide presentation of my work there. Thank you Doug."
A particularly significant collaboration took place in 1992  when three Baltimore institutions-Maryland Institute, Baltimore Clayworks and the Contemporary Museum- joined forces to site Jimmy Clark's brilliantly curated "Contemporary East European Ceramics" in the former St. Stanislaus Convent.  Doug had travelled extensively in Eastern Europe, and took a special  interest in hosting artists Jindra Vikova (Czech Republic) and Czelaw Podlesny (Poland), involving them with Baltimore's communities and Maryland Institute students.  This phenomenal exhibition and its programs with the artists were visited by more than 2,500 individuals over a six week period. One Saturday evening Doug called the organizers to let us know that Jindra was hosting a breakfast the next morning in her apartment, and that we must come. When we arrived, we found a beaming Doug seated with Jindra and her husband, Pavel Banka, at the kitchen table with only some paper plates and plastic cups, a  large Braunsweiger sausage, a knife  and a bottle of Jim Beam.  Jindra announced, "We are having a little Viskey Brunch." Doug with a benevolent smile proudly said, "This was all her idea." And we joined in!
Encouraging people to move forward with an individual vision, without judgement but with an inclusive spirit was a hallmark of Doug's teaching and professional interactions. Whether preparing to attend NCECA, frequently in the company of Dennis Parks and Verne Funk, and finding ways to get students to the conference, collaborating on an exhibition with Baltimore Clayworks, or teaching a room full of undergraduate first- time clay students, Doug's attitude and his stance was to give things a try and see what happens. He would say about most things – "don't worry too much about technique".
Ron Lang, Doug's colleague and co-conspirator in clay at Maryland Institute framed it this way,  " He was an inspirational muse for four decades of devoted students at MICA. Doug's teaching made space for the students to really be themselves and in doing so, he gave them permission to be more authentic and to take bigger risks."
Kim Robledo, now a program director at Cooper-Hewitt, the Smithsonian's design museum in New York, says of her undergraduate years (1991-95) as a ceramics major with Doug, " Doug always encouraged the possible. I guess when a man spends his clay career making thousands of ducks, he has the power to make you believe there is no idea that clay cannot explore. I thank Doug for giving me this gift as an artist. I also thank him for showing me how to properly eat a Maryland crab."
Anthony Stellachio, one of Doug's students and the newly minted Director of Studio Potter and a member of  the  International Academy of Ceramics,  credits Doug with being a major career influence. He says, "Doug Baldwin is one of those people whom I think about and marvel at how my life might have been different without him. He connected me to Eastern Europe, a favorite haunt of his, and that has affected – even defined – my personal and professional life even today."
"Doug didn't do that because he was a larger than life personality who singled me out for my potential and decided to change my life. No, Doug was a humble and quiet man with a generous spirit. He believed in the potential of all of his students, and he did anything he could for them.  Well, he did everything he could for them except give us assignments. In fact, the only instruction he ever gave us as sophomores was to "fill up the table" with work. Doug trusted us, and he thought of us as artists. God bless him, some of us still are.
Regardless of the influence that Doug had on his students at Maryland Institute and artists here in Baltimore, Doug longed to be in his native Montana and always planned to retire there.  He did just that in 2004, moving close to his daughter Tracy and his grandchildren. That was where he felt grounded and alive. Doug was extremely productive in Montana and made numerous duck- populated pieces about "these Montana woodfiring potters". He became involved with film and video, using this work as content. Once he called me to talk about The Clay Studio of Missoula, where he found a warm and welcoming community of like-minded makers who were down to earth and accepting. He was clearly at home in Missoula.
Doug and his ducks will forever remain a singular artistic legacy in the field of ceramics. But more than the actual physical genius of the work he leaves in the world, for those of us who knew and loved him, he leaves behind a legacy of all that is authentic, good and cherished in clay: a lifelong commitment to the studio, inspired and intentional teaching, and a genuine, unselfish impulse to advance the ceramic well being of others. Doug Baldwin set the bar much higher in his time among us.
Deborah Bedwell, ceramic artist
Founding Executive Director, Baltimore Clayworks
Past –President, NCECA (2012-2017)