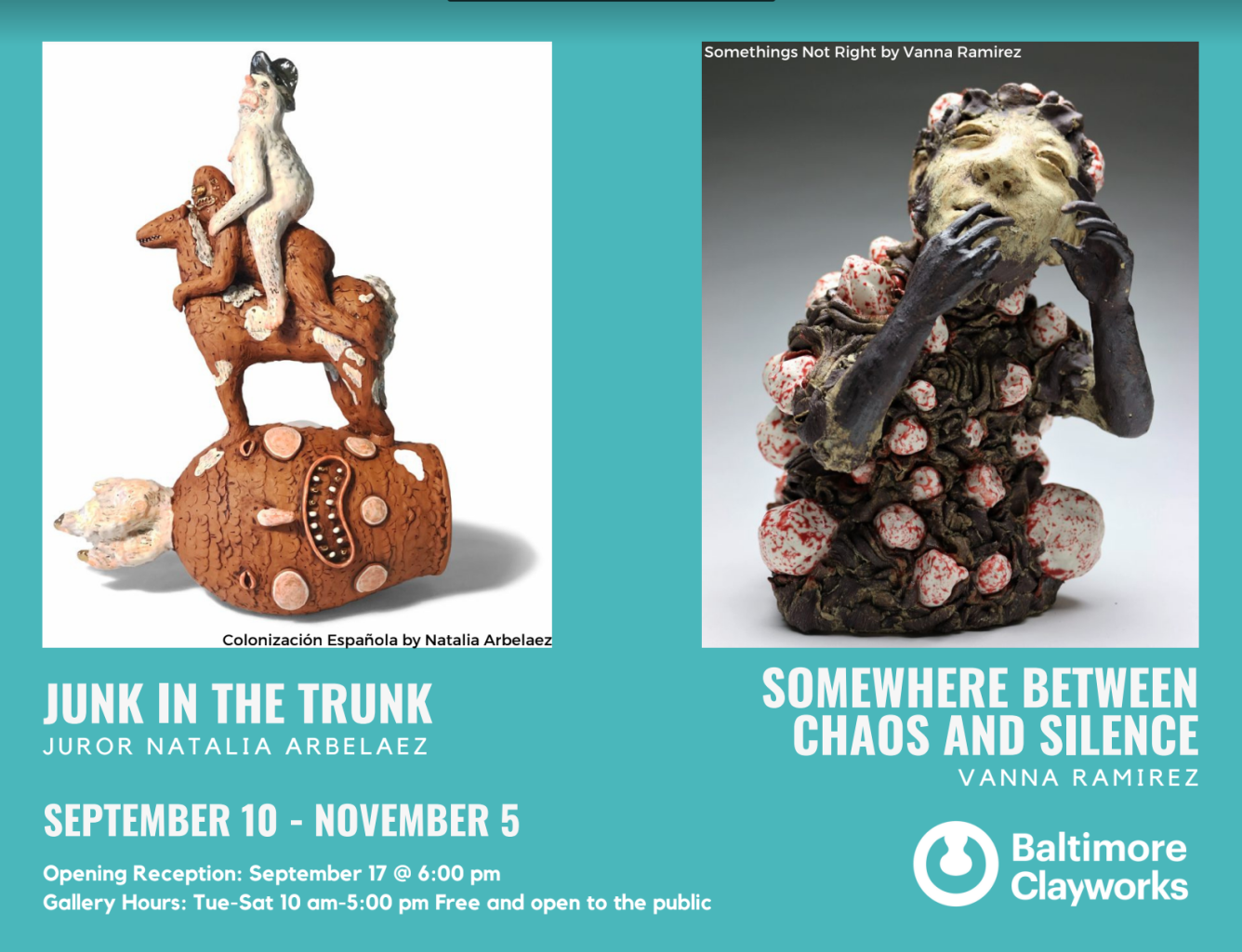 BALTIMORE, MD (August 29, 2022) – Baltimore Clayworks is thrilled to present both Junk in the Trunk, a quirky exhibition juried by Natalia Arbelaez that celebrates breaking the rules, and Somewhere Between Chaos and Silence, an exhibit that reveals the visceral experience of human emotions caught in the flux of conflict, confusion, and duality.
Baltimore artists such as John Waters and Miss Tony have created a blessed backdrop for the upcoming Junk in the Trunk exhibit. Craft often lives on the edges of the fine arts and multi-medium and multi-media artists are found to be on the outskirts of the outskirts. This show is a celebration for artists who live in that borderland. The queer, the othered, the funk, and the sub-cultured. These artists love material but will not care to "blasphemously" glue rhinestones to that dance.
Arbelaez reflects on their process and states, "with the city having such a rich art history, Baltimore was a big influence for this show. Especially it's more obscure and underground subcultures, such as Ms Tony, John Waters and his characters. I wanted to create a show that touched upon these influences. The weird and othered, with kitschy objects and stories that often live in the in-between. Most craft-based organizations want to exclusively work in their own medium but much of the fine arts world isn't interested in ideas of process. This led to my desire in making space for a group of us who wanted a little bit of everything or a lot of it all."
About the Juror
Natalia Arbelaez is a Colombian American artist, born and raised in Miami, Florida, to immigrant parents. She earned her BFA from Florida International University and her MFA from Ohio State University. Her work has been exhibited internationally, in museums, galleries, and included in various collections, such as the Everson Museum in Syracuse, New York; and the Museum of Art and Design, New York.
Featured Artists
M'Shinda Abdullah Broaddu, Allison Arkush, Kayla Cho, Eva Conrad, Alexandra Fabrizio , April D Felipe, Eliza Fernand, Sarah Harlan, Rennie Jones, Ryan Kelly, Cathy Lu, Harry Malesovas, Chris Malone, Molly McDonald, Heidi McKenzie, Kristy Moreno, Rick Nickel, MK Noonan, Anela Oh, Jenny Reed, Jefrey Rubio, Anthony Sonnenberg, Britney Wainwright, Kirstin Willders
Our Solo gallery will host the figurative work of resident artist, Vanna Ramirez. Constant struggles of the self are physically manifested in an outward surreal and abstracted melding of the body and a soul overcome. We coexist with the haunting growths of our turmoil worn as skin, that which is meant for protection also records our pain. Through my unconventional incorporation of stoneware, porcelain and light, the sculptures evolve as a work in progress, a glimpse into my explorations with clay, the figure and reflections of the self.
Ramirez shares their process of creating stating, "I sculpt with intuition and instinct, purpose and chance, following my natural and spontaneous curiosities of the clay. Sketching in a physical realm, I allow the material to guide me as I develop my thoughts outside of my awareness, balancing my response to the medium and its memories of my touch. Clay is a humble power to hold. It is my connection to Earth, to people, and to myself."
About the Artist
Vanna Ramirez is an artist with a passion for clay. In her work, she often enjoys balancing between sculptural and functional forms while she explores her curiosities for visual and physical textures. She holds a BS in studio art from Skidmore College, and has attended NCECA's 53rd annual clay conference as a Multicultural Fellow, a short-term residency at the Red Lodge Clay Center and Baltimore Clayworks, and workshops at Penland School of Craft and Haystack Mountain School of Crafts. Vanna currently continues her journey at Baltimore Clayworks as a Long-Term Resident Artist and a teacher. Outside of the studio she works at the Baltimore Museum of Art Shop as a sales associate and at Greenmount West Power Press as an assistant screen printer. And when life allows, Vanna loves biking into the sun set and watching movies with her pup.
About Baltimore Clayworks (BCW)
Recognized by the National Endowment for the Arts, BCW was founded by nine artists in 1980. Our mission is to develop, sustain, and promote an artist-centered community that provides outstanding educational, residency, and collaborative programs in the ceramic arts. We offer classes and workshops for adults and children, host short and long-term residencies for emerging artists, present rotating exhibitions along with a retail shop featuring the work of local and internationally recognized ceramicists, and BCW utilizes the universal medium of clay to engage under-resourced communities in and around Baltimore.