Our October Artist Spotlight feature is with Emily Lamb. Emily came to Baltimore Clayworks in September 2019 as a new, long-term Resident Artist. In her work, Emily explores questions regarding the human body, both physical and metaphysical, in her experimental mixed-media sculptures. She is from Denver, Colorado and came to the East coast to earn her BFA at Virginia Commonwealth University School of the Arts in Richmond, Virginia. She is a recipient of the TOAST Grant, multiple VCU scholarships, as well as partial/full scholarships to Penland School of Crafts, Haystack Mountain School of Crafts, and Pilchuck Glass School. Her art has taken her across the country, to Denmark and Norway, and now to Baltimore. Emily will be teaching a figure class at Baltimore Clayworks starting in November.
Question #1: What is your earliest memory of clay?
At the age of five or six, my mom was taking porcelain doll-making workshops. I was very fascinated and confused by all the separate doll parts; faces without eyes, limbs and torsos, plus how dusty and dirty the work was. Being a kid, I wanted to have one of the dolls, thinking it was like a doll store. My mom explained that everything I was looking at wasn't finished yet and she showed me a little bit about how the heads came from molds and how there was sanding and carving to be done beforehand. I think that was my first glimpse at clay and realization that this material had to be fired and then painted in order to change into something more permanent. I still have the china paint pigments that she used in that workshop years ago and hope to work with them at some point in the near future.
Question #2: Who inspires you and who do you hope to inspire?
So many other artists inspire me it seems unfair to pick just one. I've always admired artists that combine different materials and think outside the box of their medium. The phrase "Jack of all trades, master of none" really rubs me the wrong way. I hope to inspire those artists who like myself, are keen on exploring the limits of materials and experimenting with combining materials while at the same time exploring visually meaningful concepts.
Question #3: What is your fondest or funniest memory associated with clay?
In one of my ceramic classes at college, I was working all night in the studio making 9 pots from start to finish before they were due in the morning. At some point in that sleep deprived frenzied state, I looked over at the table next to me and saw Yoda from Star Wars face in the muck. I thought I was losing it at that point, so I took the time to clean my hands, get my phone and took a picture in order to show other people and prove to myself I wasn't going crazy.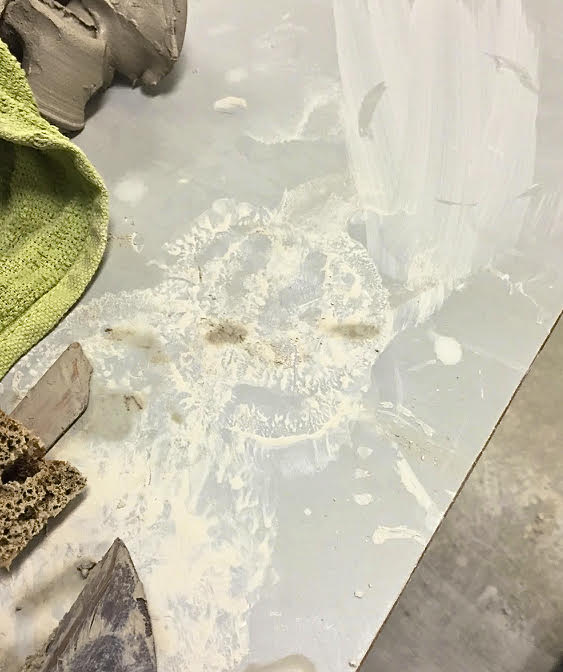 Question #4: If you could see your work in anyone's collection, who/where would it be and why?
I would love to have my work be collected by people in the medical industry or the psychology field. My work focuses a great deal on both the body and the mind so it's my hope that people who are as equally fascinated by anatomy and thoughts are able to see those things in my work.
Question #5: As a new Resident, what about Clayworks are you looking forward to the most?
Being part of an artist community. I love having a shared studio where I can ask peers their opinions or for technical advice. Sometimes I struggle making pieces when left on my own because I get too inside my own head about how things could or should look. I find the best and simplest cure for second guessing myself or being at a standstill is to see it from someone else's point of view.