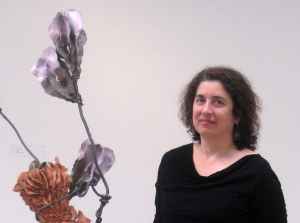 The Board of Trustees of Baltimore Clayworks, Inc. is pleased to announce the selection of Nicole Fall to assume the responsibilities of Interim Executive Director.
Nicole Fall is an artist-educator who has been an arts administrator, exhibiting artist and educator. She was a founding teacher of George Washington Carver Center for Arts and Technology, a high school for the arts, Associate Professor and Coordinator for Visual, Performing, and Communication Arts at Baltimore City Community College, an adjunct professor at MICA, and a teacher in the Baltimore City Public Schools.
A sculptor who works in clay, welded steel, and cast bronze, Nicole is a two-time recipient of the Maryland State Arts Council Individual Artist Award. She also worked for Baltimore Clayworks in the early 2000s as Community Arts Programs Director.
Nicole looks forward to working with the Baltimore Clayworks community as it navigates this exciting and transitional period.
"In my experience as a teacher I have had the honor of guiding and witnessing the transformation that happens when a student picks up a lump of clay and makes a cup, or a cat, or a creature from the deep; their eyes light up with possibility," she says.  "I would like to continue the work, in my role as interim executive director of Baltimore Clayworks, of bringing clay to community inspiring hope and possibility."
She may be reached at nicole.fall@baltimoreclayworks.org.