Summer 2023 Exhibitions
July 8
@
8:00 pm
–
August 26
@
5:00 pm
Opening Reception – Saturday, July 8, 6:00 – 8:00 pm
Main Gallery: "Frankly" Patrick Bell, 2022-23 Lormina Salter Fellowship Exhibition
Solo Gallery: "Friends from Back Home" Kiran Joan, 2022-23 EMBARC Fellowship Exhibition
Community Art Gallery: "Common Ground" Curated by Angelique Scott and Genifer Fraser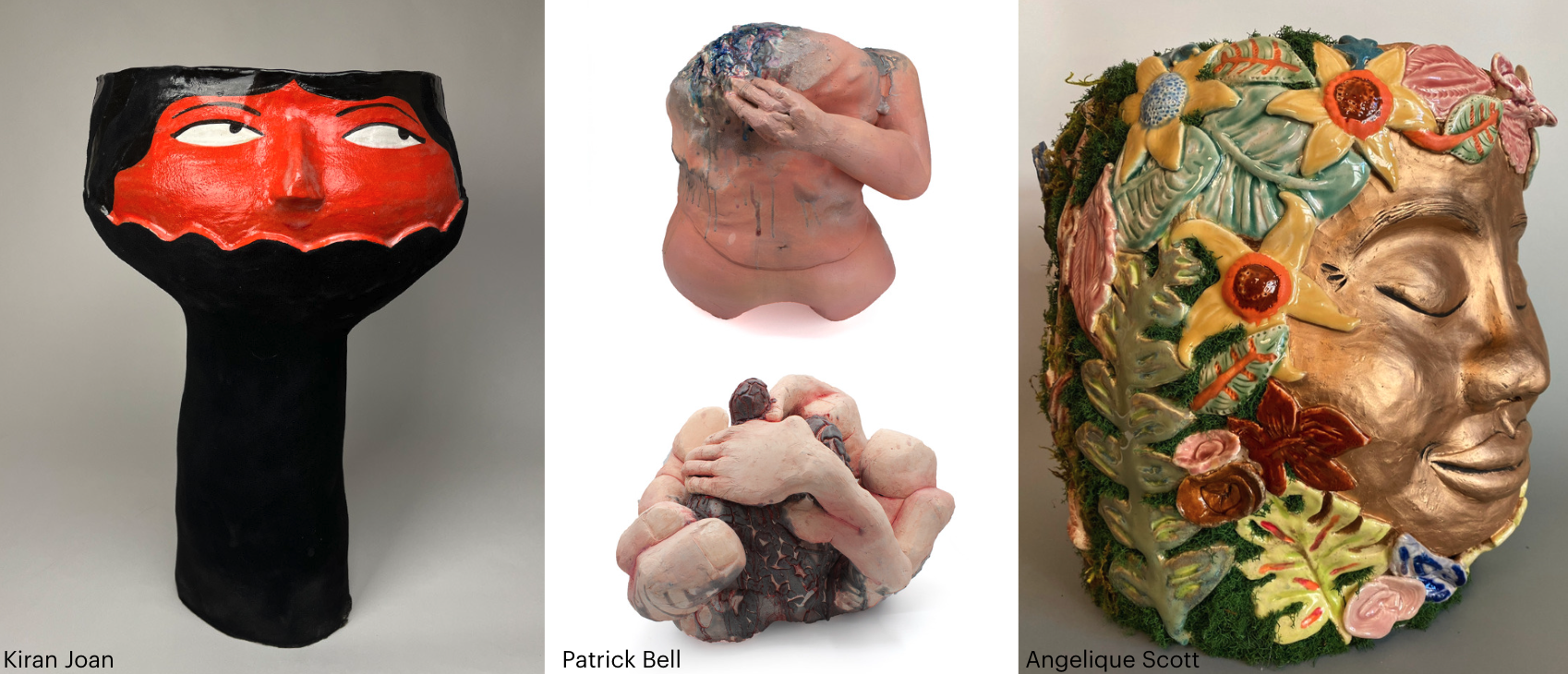 Frankly
Patrick Bell, 2022-23 Lormina Salter Fellowship Exhibition
"Frankly" is an exhibition of Patrick Bell's most recent sculptures exploring the mind and body as inseparable sources of confusion, discomfort, and anxiety. These works poke, prod, squeeze, and pull at themselves in amorphous examinations of physical and emotional states. Works in this exhibit explore the personal and social dimensions of health and anxiety using abstracted, bodily forms to create a sense of palpable feeling, inviting the viewer to reflect on their own experiences and the ways in which health and anxiety intersect in their own lives.
Friends from Back Home
Kiran Joan, 2022-23 EMBARC Fellowship Exhibition
Kiran's illustration oeuvre is composed of bright and colorful forms which translate beautifully into her functional cups and larger sculptural pieces. A distinct figure comes through in every piece, this is not one person but many people. In her practice emerges a community reminiscent of one built and left behind in India, and friends made in the United States. The impression conveyed is that environments are transitory. The show, "Friends from Back Home," explores what friendships look like in the artist's mind.
Common Ground
Curated by Angelique Scott and Genifer Fraser
"Common Ground" is a community installation that explores the connection between community and nature. The gallery space is transformed into a garden oasis, offering a peaceful space for communion and reflection, cultivated by community members.
Related Events