Clay from Classroom: Annual Student Show
June 10
@
4:00 pm
-
June 24
@
5:00 pm
Opening Reception – Saturday, June 10, 4:00 – 6:00 pm
Main Gallery: Clay from Classroom: Annual Student Show
Solo Gallery: Instructors, Springboard and Mezzanine Artists
Community Arts Gallery: Spring Programs Showcase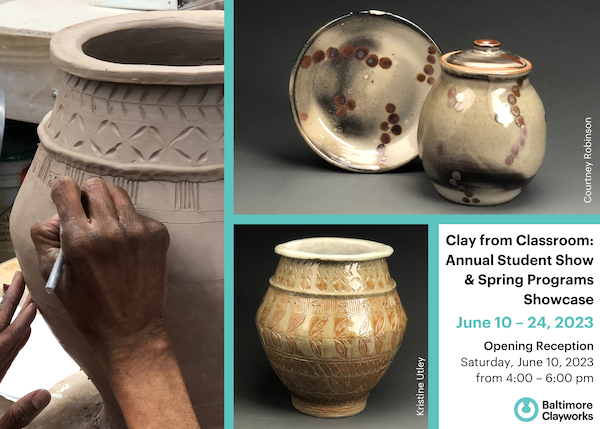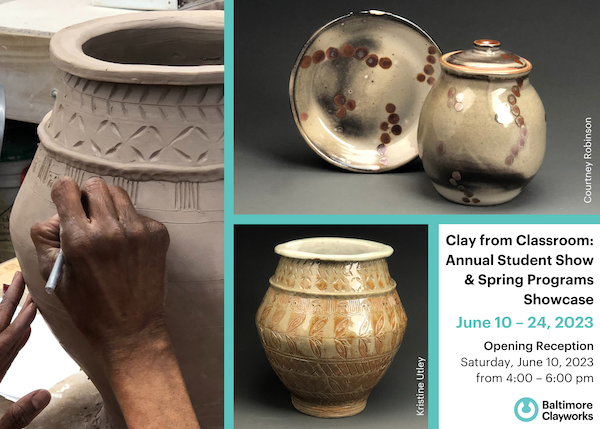 Main Gallery
Clay from the Classroom is our annual exhibition celebrating the talent and triumphs of our students and their instructors, featuring beginner through advanced ceramic art from our various classes at Baltimore Clayworks from the past year. Functional wares like mugs and bowls to more complex forms such as teapots and jars will show off the techniques and skills of our students. Figurative and abstract sculptural art are also part of the show and reflect our course offerings. With our variety of firing possibilities, the artwork ranges from low-fire Majolica and mid-temperature electric, to high-fire gas reduction, salt- and wood-fired finishes. All work was created with the guidance of our dedicated instructors, whose work will also be on display. Clayworks is so proud to highlight the personal achievement in our creative community!
Community Arts Gallery
Community Arts Gallery will feature artworks from students at partner site Banner Community Corporation as well as Mother Seton Academy guided by our Community Arts Program Instructor, Audrey Naiva.