Baltimore Clayworks is thrilled to announce the incoming 2023-24 Resident Artists. Jai Sallay-Carrington, Lormina Salter Fellow; Wayman Scott, EMBARC Fellow; Victoria Walton, Short-term Resident Artist; and Tracy Wilkinson, Short-term Resident Artist, will be joining the Baltimore Clayworks Community.
Ceramic artists are at the heart of Baltimore Clayworks. Artists are at the center of the mission of Baltimore Clayworks and provide the organization with talent and innovation to inspire our community and enliven the artistic impact of ceramics in our region. Their professional and personal networks provide a kaleidoscope of interactions with peers, galleries, and academic institutions, which keep the organization at the forefront of contemporary ceramic art.
About the Artists
Jai Sallay-Carrington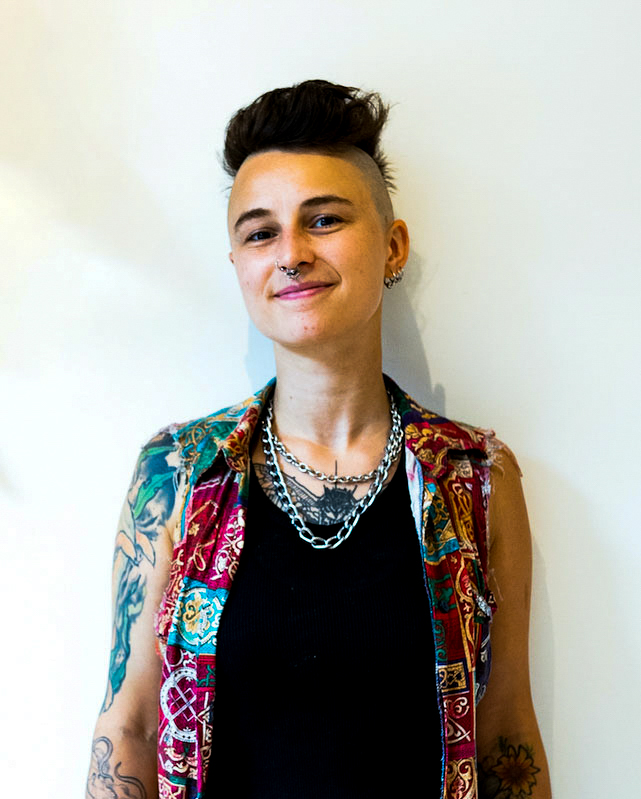 Jai Sallay-Carrington is a Canadian sculptural ceramic artist originally from Vancouver BC and spent ten years living in Montreal QC. In 2014 they graduated from Concordia University with a BFA in ceramics. Jai has attended many artist residencies, traveling around Canada, USA and Europe. Residencies such as C.R.E.T.A Rome, Torpedo Factory Art Centre, and Tolne Gjæstgivergaard. They have been a part of many group exhibitions, at galleries such as the Canadian Clay and Glass Gallery, Henry Art Gallery, and the Clay Center of New Orleans. Jai has had several solo exhibitions in recent years, such as NuQueer Power at Fatale Art Gallery, Co(R)vid Calluses at Galerie ERGA, as well as Adapting, at Maison de la Culture Côte-des-Neiges. They have been featured in publications such as CBC Exhibitionists, New York's ArtTour International Magazine, and Ceramique: 90 Artistes Contemporarian. Jai has been awarded grants from Canada Council of the Arts, SODEC and was a finalist for the Winifred Shantz Award for 2020 and 2021. Jai just earned their master's degree at the University of Washington, receiving the De Cillia Graduating with Excellence award. 
Wayman Scott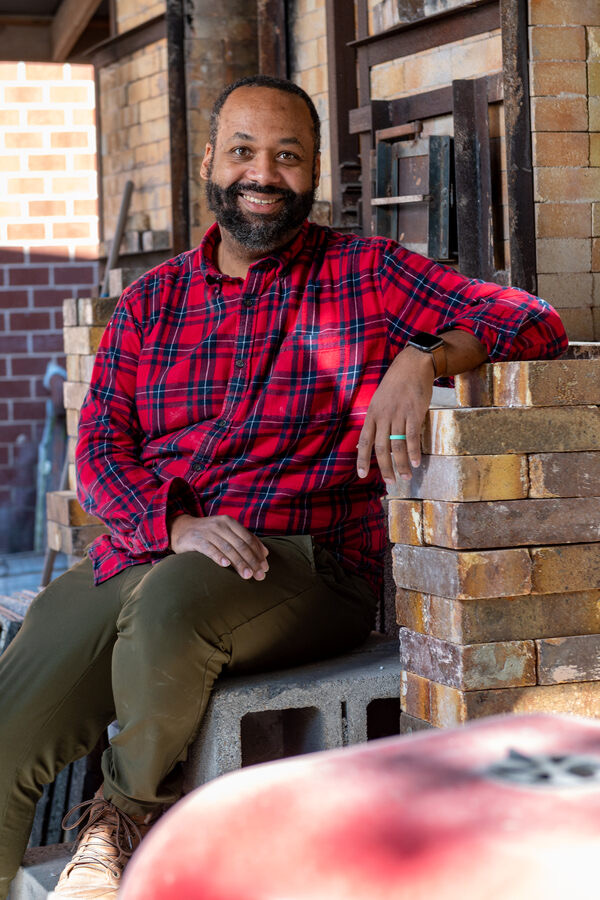 Wayman Scott is a free-lance artist who initially focused on human figure in the medium of pencil before transitioning to sculpture. Continuing to focus on human figure Wayman uses contemporary, historical, and religious art to pay tribute to heroes, past and present. Wayman's art highlights the story of the marginalized using Baltimore City as a tapestry. Wayman studied fine arts at Towson University and completed a summer residency at Baltimore Clayworks in 2022. In 2022 Wayman was featured in The Arlington Catholic Herald, the Catholic Virginian, and The Wilmington Dialog. In 2021 his work was featured in the Catholic Review.
Victoria Walton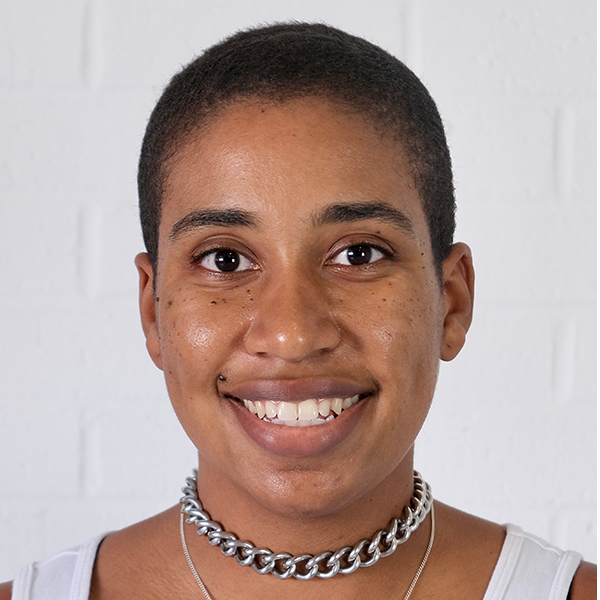 Victoria Walton is an emerging visual artist living in Baltimore. They have an MFA in Ceramic Art from the NYSCC at Alfred University and a BFA with a focus in ceramics from Towson University. Victoria explores the wonder and complexity of Black identity, creating sculpture and video works that center the narratives of women and gender-expansive people. Walton draws from their own life: reflecting on the intersection of her identities, their health disability, and background of medical and emotional trauma. She further investigates the impact that historic societal factors and personal experiences have on the individual and the Black community. Their work illustrates the conditions that reveal how our environment builds and breaks us down simultaneously, making multi-layered connections between clay and the body.
Tracy Wilkinson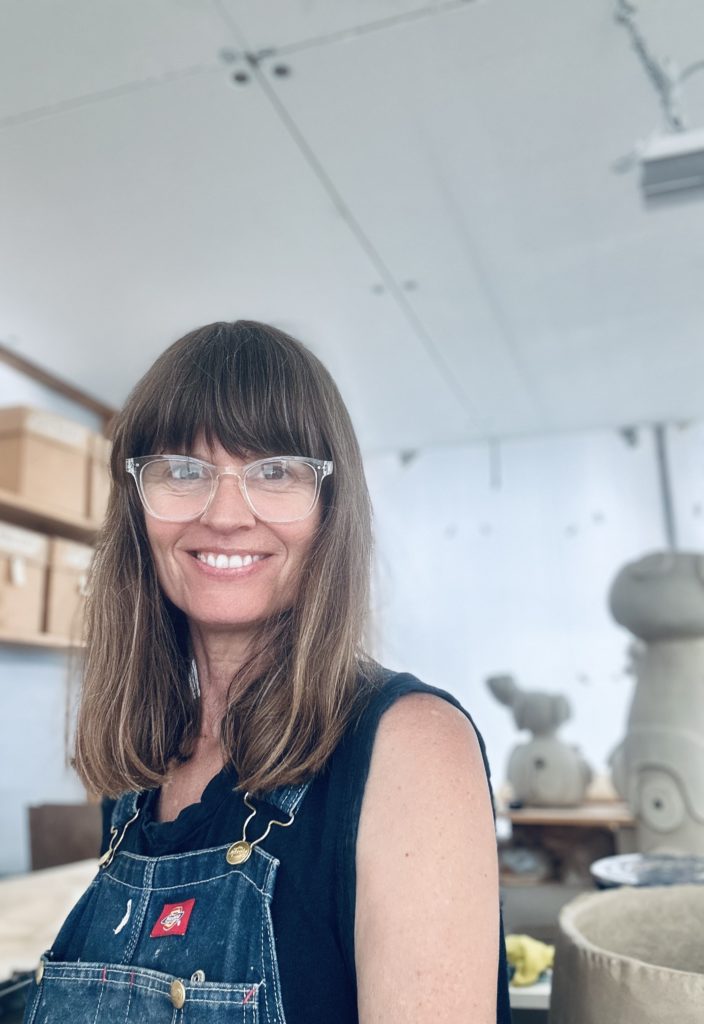 Originally from Yorkshire, Tracy graduated from the Royal College of Art in London with an MA in Fashion and Textile Design. Upon graduating she accepted a job for a fashion company in New York and has since worked in the fashion industry in both New York and Los Angeles. After running her own design company for 10 years, she was ready to embark on a quieter and more independent form of creative expression and closed her company to pursue her interest in ceramics. Tracy learned most of her technique through on-line classes and local community colleges. In 2018 Tracy's first solo show in Los Angeles featured her SOTOGRANDE series of clay and basketry sculptures, one of which was featured in a Christie's Auction in 2018. Her work has also appeared in Elle Décor, Brutus Japan, Monocle, the Los Angeles Times and the Times of London. In 2020, Tracy embarked on a new stoneware and fused glass series, SPACEBLOOM an exploration of connection and vulnerability.