"Surface Circus" juried by Sue Tirrell
March 15, 2022
@
10:00 am
–
May 7, 2022
@
5:00 pm
Artist Reception RESCHEDULED for Saturday, March 26th from 6–8 p.m. Free and open to the public.
The Main Gallery features "Surface Circus," a group exhibition juried by Sue Tirrell, from March 15 through May 7, 2022. The exhibition features a deep exploration of the myriad ways that texture and surface can complete a piece of ceramic art.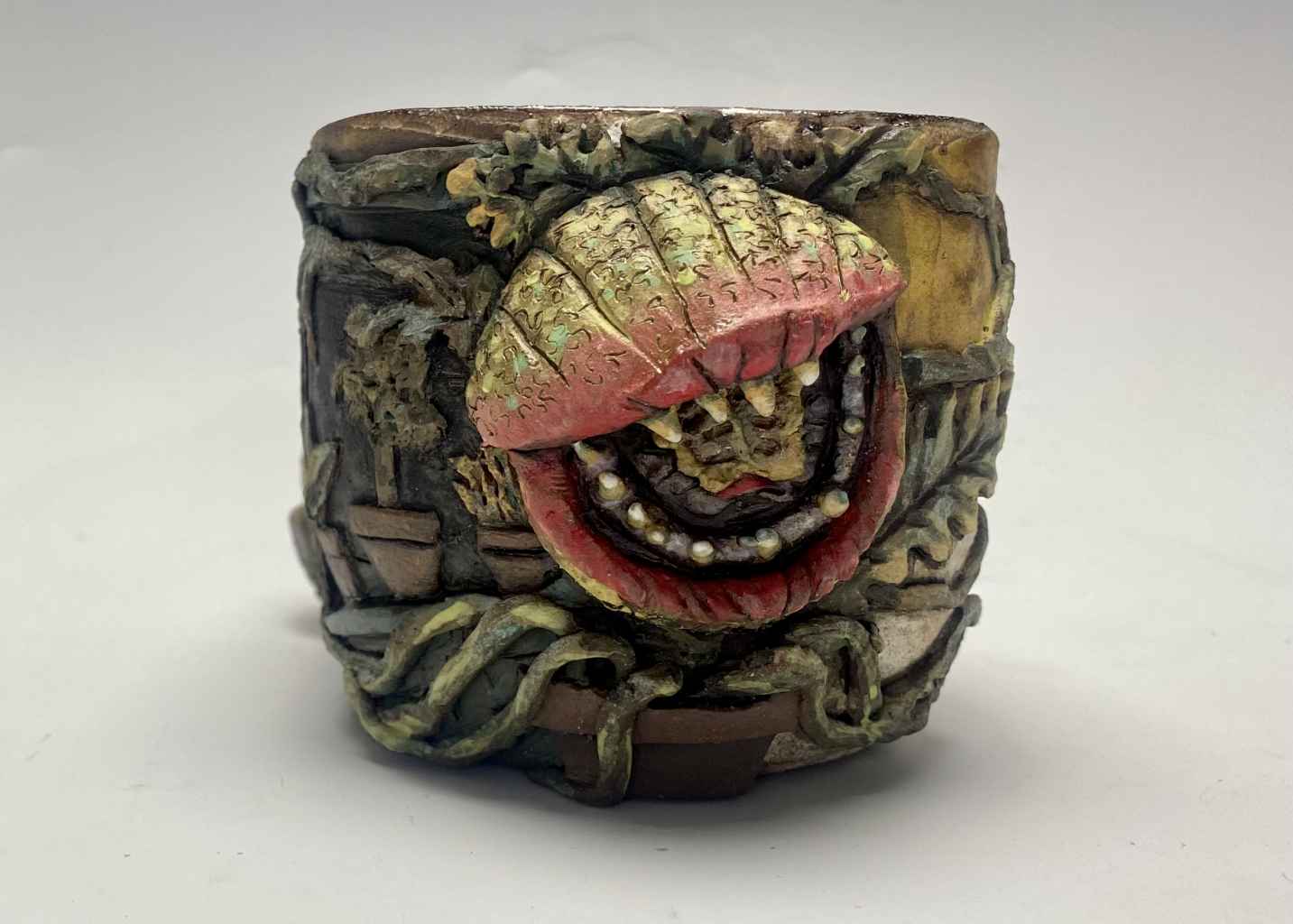 Clay has many potential surface possibilities and "Surface Circus" will show a smorgasbord of ideas from traditional glazes, low to high-fire temperatures, wood-fire atmospheric, and even paint. Artists use the method they need to achieve their vision and function for each object, while colors ranging from bright and whimsical hues to more contemplative earth tones showcase the boldness and skill of contemporary ceramic art.
"Hand-carved or screen printed, kissed by soda or blasted by wood ash, I'm a sucker for a well-executed surface," said Sue Tirrell. "What makes the most successful surface though – the thing that will draw me across a room in a home or gallery – is the way a surface completes its companion form. Glaze, texture, and graphics don't exist or make sense on their own in ceramics. These elements complete the form, giving it context, narrative, and function."
Artists in the exhibit include: Elka Adamowicz, Patrick Bell, Casey Ann Hanrahan, Steve Hilton, Erin Holmes, Shea Kister, Marina Kuchinski, Martine Kuhlman, John Matuszak, Lynne Molner, Rebeccca Murtaugh, Tina Opp, Russ Orlando, Michael Poness, Kit Reseau, Whitney Sherman, Minsoo Yuh, and Kara Zuzu.
Sue Tirrell was born and raised in Red Lodge, Montana; a small ranching and tourist community on the doorstep of Yellowstone National Park. She received an AA from Cottey College in Nevada, MO in 1995 and a BFA from the New York State College of Ceramics at Alfred University in 1997. Her functional and sculptural work draws inspiration from her life-long experiences in Montana and the West, her fascination with animals and interest in folk art, vintage kitsch, western art and culture. Her work has been exhibited widely in the United States, as well as Canada and Australia. She has been a resident artist at the Archie Bray Foundation in Helena, MT; California State University, Chico; and the Custer County Art & Heritage Center in Miles City, MT. She has logged hundreds of hours teaching ceramics and multi-media workshops across the US and Canada in community art centers, college classrooms, retirement homes and one-room schoolhouses. Sue makes her home and studio on the banks of the Yellowstone River in Montana's Paradise Valley.
---
Gallery hours are Tuesday-Saturday from 10am-5pm. Masks and social distancing required.