Fire Fest 2021!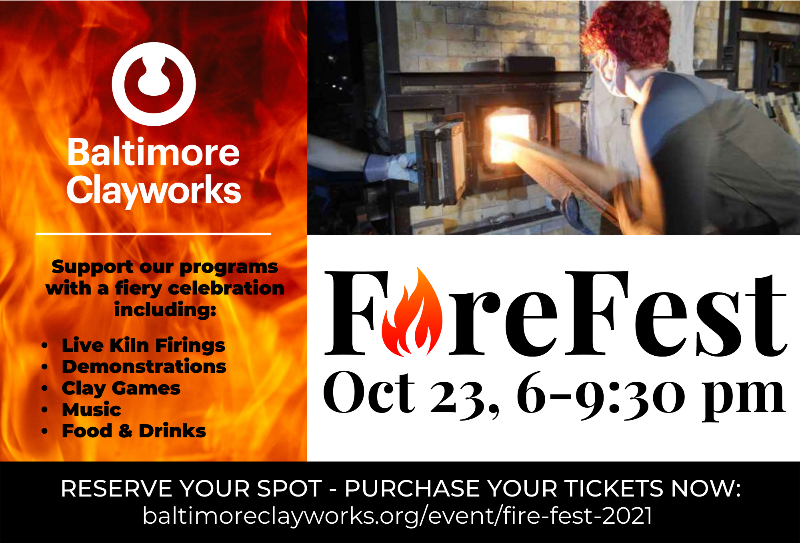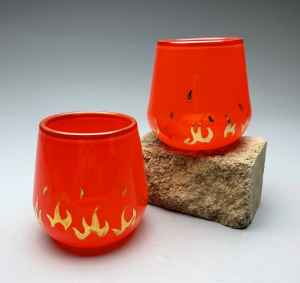 FIRE FEST is an exciting celebration of fire – one of a ceramic artist's most important tools. Fire is essential to the creation of ceramic wares, and can be seductive and dangerous.
LOOK what you can win with your RAFFLE TICKETS!
The night begins with an demonstration from Phil Valencia of Valencia Glass, showcasing the incredible flexbility of molten glass. Resident Artist, Emily Lamb will work alongside Phil to show her amazing skills with this extraordinary medium.
During the Fire Fest evening, our staff will lead live Raku Kiln firings and CCBC Essex Professor Trisha Kyner will lead her students in a live Obvara Kiln firing. Both of these ceramic firing processes are thrilling and involve pulling a piece of clay from a 1650°F kiln, and then cooling it rapidly.
Baltimore Clayworks Noborigama Kiln will also be firing during Fire Fest. Our Woodkiln Technician Jeremy Wallace will lead students from Towson University, CCBC Essex and Catonsville, and Morgan State University through the full two-day firing process. During this time, the kiln needs a continuous supply of wood. The ash from the wood coats the work in the kiln and creates wonderful, rich glaze effects. Once the kiln reaches the desired temperature of 2300°F, the firing ends and the kiln is left to cool for a week.
Bonus.The Shop and galleries will be open!
ENTER THE CLAY GAMES! Compete and test your clay skills!
Winners take home a ceramic prize, handmade by artist and Towson ceramics professor Rich Holt.

7:15pm Create a replica of a Doug Baldwin sculpture – Teams of 2 have 20 minutes to recreate Doug Baldwin's wood kiln sculpture (see raffle picture), with the most details possible. Judged by artist Richard Cleaver.
7:50pm Longest Handle Pull – Participants will have 90 seconds to pull the longest handle they can. Use any method.
8:30pm Biggest Arches – Teams of 3 will have 15 minutes to create the largest free-standing arch possible.
Proceeds from this event will ensure the continuation of Baltimore Clayworks' incredible artistic and educational programming in and around Baltimore.