[siteorigin_widget class="Nextend\\SmartSlider3\\Platform\\WordPress\\Widget\\WidgetSmartSlider3″][/siteorigin_widget]
[siteorigin_widget class="WP_Widget_Custom_HTML"][/siteorigin_widget]
Baltimore Clayworks Shop
Baltimore Clayworks' retail shop is located in the Gallery Building and showcases handmade ceramic art including sculpture, wheel thrown and hand-built pottery, ceramic jewelry, and more. Artists from Maryland and nationwide are selected to show in the Shop based on the craftsmanship and artistic excellence of their work.
Our online Shop is now open! Browse from a limited selection of artwork from our physical shop in the comfort of your own home.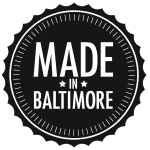 We are proud to be a certified member of the Made In Baltimore program. Many of the artists featured in our Shop make their work right here in Baltimore, and and some even have their studios here at Baltimore Clayworks.
Featured Shop Artist
Our current Featured Shop Artist is Stephanie Wicker.
Stephanie Wicker has been working with clay for over 18 years. She studied at Harford Community College and Towson University, and was a studio assistant for Lyon Clay Studio for 5 years. She has been a member and teacher at Baltimore Potters Guild for over 4 years. Her current body of work is an exploration in contrast and color. She uses a rich, dark-brown cone 5 stoneware, and meticulously paints wax resist designs. She then glazes the pieces with bright colors revealing the chocolatey waxed-out designs. She loves the contrast of the stark raw clay with the indulgent glaze colors.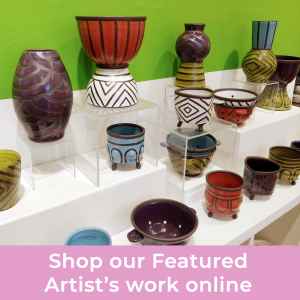 @import url(https://baltimoreclayworks.org/wp-content/plugins/siteorigin-panels/css/front-flex.min.css); #pgc-6001-0-0 , #pgc-6001-1-0 { width:100%;width:calc(100% – ( 0 * 30px ) ) } #pg-6001-0 , #pl-6001 .so-panel { margin-bottom:30px } #pl-6001 .so-panel:last-child { margin-bottom:0px } #pg-6001-0.panel-no-style, #pg-6001-0.panel-has-style > .panel-row-style , #pg-6001-1.panel-no-style, #pg-6001-1.panel-has-style > .panel-row-style { -webkit-align-items:flex-start;align-items:flex-start } @media (max-width:780px){ #pg-6001-0.panel-no-style, #pg-6001-0.panel-has-style > .panel-row-style , #pg-6001-1.panel-no-style, #pg-6001-1.panel-has-style > .panel-row-style { -webkit-flex-direction:column;-ms-flex-direction:column;flex-direction:column } #pg-6001-0 > .panel-grid-cell , #pg-6001-0 > .panel-row-style > .panel-grid-cell , #pg-6001-1 > .panel-grid-cell , #pg-6001-1 > .panel-row-style > .panel-grid-cell { width:100%;margin-right:0 } #pg-6001-0 , #pg-6001-1 { margin-bottom:px } #pl-6001 .panel-grid-cell { padding:0 } #pl-6001 .panel-grid .panel-grid-cell-empty { display:none } #pl-6001 .panel-grid .panel-grid-cell-mobile-last { margin-bottom:0px } }